Revis Says He'll Attend Voluntary Practices
February 5th, 2014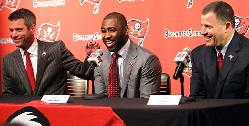 If you missed JoeBucsFan.com's interview with Darrelle Revis on the sun-drenched Pro Bowl practice fields in Hawaii, you can catch up here.
But Joe also had a more intimate chat with Revis after the game.
One thing of note in the postgame chat was Revis saying he won't pull any kind of diva routine when it comes to OTA practices that kick off during the first week in April. The Bucs report back before their NFC South rivals because they have a new head coach, who is permitted to schedule extra spring practice sessions by league rules.
Revis will be with the Bucs for the notorious "underwear" practices through the spring. And then Revis heads to Arizona around July 4 for an extreme training regimen that prepares him for training camp. Greg Schiano used to say that Revis' private workouts are legendary.
Joe's very interested to see whether Revis grabs more of a leadership role this season. Dashon Goldson embraced that in huge way the second he arrived at One Buc Palace last year. Joe suspects a healthy Revis will be eager to take on more leadership. That's a great way to help him ensure his $16 million salary keeps flowing in 2015.