Report: Bucs Considering Penn's Replacement
February 25th, 2014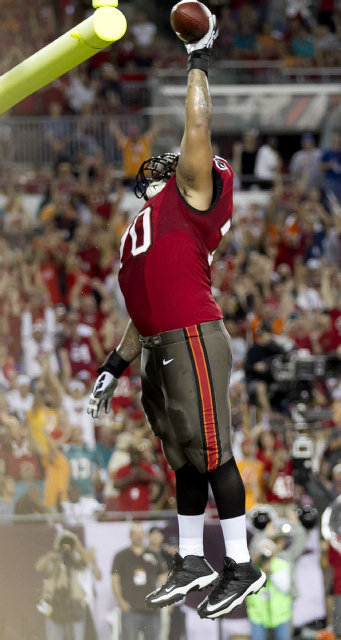 Donald Penn is an average-to-above-average starting NFL left tackle, who is earning average starter's money at his position. But a new report from Yahoo! Sports claims Tampa Bay is in pursuit of more bang for its bucks.
The Bucs are sniffing Chiefs LT Branden Albert, per Yahoo. Albert is approaching unrestricted free agency on March 11. Per writer Eric Edholm, Albert is a familiar face to Bucs GM Jason Licht.
Licht was in the Arizona front office last season when the talk of making a run at Albert was entertained before he was shackled by the franchise tag in 2013. The Bucs now have Donald Penn at left tackle, but he grades as a lower-end player at his position, and the team is believed to be looking to upgrade the offensive line at a few spots. The Buccaneers have more than $15 million in cap space and could clear more if they cut expensive and ineffective guard Davin Joseph, and possibly Penn with if a new left tackle made his way on the roster.
Albert turns 30 this season and made his first Pro Bowl a handful of weeks ago. He was Kansas City's first-round pick in 2008.
Loyal JoeBucsFan.com readers know Joe is a supporter of Penn. The Bucs' ironman was not great last year, but he was not "the problem" with the Bucs' offensive line. And Joe sees Penn's durability as an asset, versus the medical woes of Carl Nicks and Davin Joseph. Joe gets the desire to upgrade, but Joe's not sure he would start with Penn.
A signing of Albert would mean Penn's days as a Buccaneer are finished. It's not a situation, like with Josh McCown and Mike Glennon, where Albert would represent competition.