Plenty Missing From Times' Attack On Williams
February 21st, 2014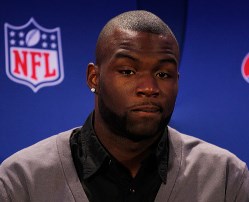 Joe's been around journalism long enough to know today's Tampa Bay Times attack piece on Mike Williams, slapped on the front page of the print edition, is seriously lacking important substance.
First, the Times wants us to believe that somehow Williams lived in a quiet, posh Lutz neighborhood where he terrorized neighbors with wild house parties for more than a year but there was no significant community uproar, or dozens of calls to police, or arrests or citations at the property, or more. 
The real world just doesn't work that way.
The Times implies, in a clear attempt to smear Williams, there was a big party at the house two nights before a Bucs game at Dallas in September 2012. (Gasp!) But the Times conveniently did not allege any trouble at that party, did not confirm the party happened, didn't claim Williams was there, and only based its claim on a vague invitation on Williams' Facebook page, one allegedly operated by him.
For Joe, that stinks, and frankly is borderline malicious. Keep in mind the Times admits there were several residents of the 5,400 square-foot property, not just Williams.
Additionally, the Times reported a settled dispute with Williams and his former landlord (Williams moved out last year, per the story) largely surrounding more than $40,000 in alleged damages at the house, but the damage isn't detailed in the story. Those damages could have been as trivial as Williams ruining fancy driveway pavers. Money adds up fast when you're talking about a posh home.
The Times also seems to think it's a knock on Williams' character that he posted a note via Twitter looking for girls to pay $500 each for a photo shoot and video, likely for business related to his rap group that uses foul language.
Really? A rap music interest and trying to hire paid workers are signs of evil? The Times failed to explain why those two things are worthy of the story. Keep in mind the Times' print edition used a large screenshot photo of Williams' Twitter postings where he sought to employ women.
Joe could go on.
Yes, Williams has been foolish and stupid. The red flags are there, but they shouldn't be overblown and overdramatized like they are in the Times' news story. Williams is a darn good receiver and the Bucs need him. Joe doesn't recall anyone moaning when Williams' contract was extended last summer.
Lovie Smith will lay down his regime law in six weeks when the Buccaneers return for the 2014 season. Williams should get a clean slate if he stays out of trouble.