Mike Williams In A Legal Hassle
February 8th, 2014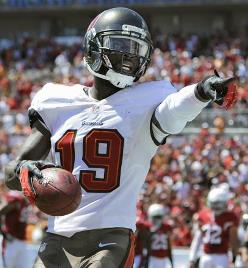 Let it be recorded that the second Bucs player to (allegedly) run afoul of the law after the jettisoning of the New Schiano Order is Mike Williams.
It seems the Bucs wide receiver finds himself in a legal hassle, notes Greg Auman of the Tampa Bay Times, due to a yet-to-be determined incident that left him charged with criminal mischief and trespassing. Williams, per Auman, has an arraignment date in Hillsborough County later this month.
The charges are of the misdemeanor variety.
These charges are believed to be the first against Williams since his rookie year in 2010, when he was arrested and charged with driving under the influence; prosecutors dropped that charge two months later. Williams was drafted with some off-field concerns, however, having been dismissed from Syracuse in 2008 amid academic concerns. He returned to the school and team in 2009, only to quit the team in November of his final season.
Now recently there have been articles from PewterReport.com that suggested the Bucs were worried about Williams' recent erratic behavior, and even pondered cutting Williams. This was before the regime change at One Buc Palace.
Of course, these misdemeanor charges in Joe's eyes could be as innocent as dropping a bottle of beer in a bar after being ordered to get out of Dodge after last call.
Obviously, Joe will have further information on this incident as details warrant.