Lovie Seems To Be Counting On Revis
February 27th, 2014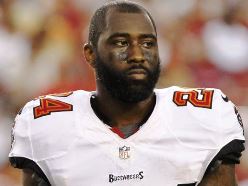 Boy, this teams-calling-the-Bucs-for-Darrelle-Revis saga has sure touched off a sore point of sorts with Bucs fans. It's taken over the starting-quarterback squabble. In fact, it has even pushed combine news off the front burner.
Bucs fans seem split. Half want Revis shipped off; the other think think that would be the work of the devil.
Then, there are those who believe the Bucs want to ship Revis off. This seems to fly in the face of what the faces of the Bucs have said in recent days, general manager Jason Licht and coach Lovie Smith.
Joe has gone through his notes of the time he spent with Lovie and Licht (not long enough to determine if they prefer their beers in bottles or draft) last week. But in going through Joe's notes, whenever the topic defense is brought up, Revis' name is also brought up. Lovie, in his group media access at the NFL Scouting Combine, had the following to say about the Bucs defense when asked by a Chicago reporter if the defense of the Bucs reminds him of the defense he inherited when he took over the Bears.
"Man, that's a long time ago in '04," Lovie said. "As I recall, Lance Briggs, Brian Urlacher, Charles Tillman, some of those guys where there and that's a pretty good foundation to start with. And I know right now, Gerald McCoy, Lavonte David, Darrelle Revis, Dashon Goldson, there are a few guys in place right now so there was a great foundation in place in both places."
Doesn't sound like a man who is itching to ship Revis out, does it?
Then there is this from Woody Cummings of the Tampa Tribune, who had a private audience with Lovie last week and he found this quote from Lovie in his notes.
@RCummingsTBO: Said Lovie: "We're primarily going to be a man team. Whether we win or lose is going to be based on how we play man coverage."
Guess who one of the best man-cover corners in the NFL is? You guessed it, Revis.
Now is Licht going to listen to offers for Revis? Sure he is. But don't bank on Revis being shipped quite yet. Barring someone pulling a Mike Ditka and completely knocking Licht for a loop, Revis is likely staying.
People seem to forget how horrific the Bucs secondary was before Revis arrived. Anyone remember Eli Manning going all Dan Marino on steroids against the Bucs? Manning torched Aqib Talib so badly in that game, the Giants had to replace the FieldTurf from the burn marks. There is no need to revisit that horror show.