Lovie: "No Such Thing As A Rebuilding Year"
February 21st, 2014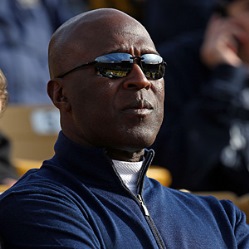 Joe loves Lovie Smith's win-now mindset.
On the heels of Lovie saying he wants to spend every nickel of available cash under the salary cap, Lovie's urgency was on display this afternoon day before Joe and other media parked in front of the head coach at the NFL Scouting Combine in Indianapolis.
Lovie was asked about the bizarre statistic of the NFC South — that no team has every repeated as division champ. The Bucs head coach said he's not taking things slowly.
"I think as you look at the league, not just in our division, there are some quick turnarounds that happen. There's no such thing as a rebuilding year, and people what to see immediate improvements and success," Lovie said. "I'll just say that we have a plan in mind, a philosophy that we're going to bring in. There is a good foundation [on the Bucs] and our plan is, of course, for us to go from 4-12 to becoming relevant again, you know, where it matters at the end."
Of course, "matters at the end" means playoffs. Just the thought is enough to drive Joe to an adult celebration.