Jason Licht's "Value" Curveball
February 5th, 2014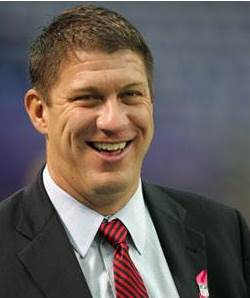 What would happen if Joe suggested the Bucs trade Vincent Jackson and the roughly $11 million a season he collects from Team Glazer? Bucs fans would be outraged. The consensus is Jackson is worth every nickel he earns.
And what about Bears fans? What would they — and Lovie Smith — say about the "value" of signing free agent Julius Peppers in 2010, when Peppers broke the bank at $14 million per year. That season the Bears want from a lousy defense in 2009 (21st in points allowed, 17th in yards allowed) to dominant in 2010, with Peppers landing on the All-Pro team and eating pineapple in Hawaii.
Peppers went on to three straight Pro Bowls.
Yes, Joe would say that those premier, big-money players were "value" free agents, the kind new Bucs general manager Jason Licht was talking about signing when he was hired and specifically said the Bucs would seek "value" on the open market.
There is disagreement at the JoeBucsFan.com world headquarters. Some believe Licht's stated desire to sign "value" free agents is code for inexpensive/non-big-name players; others believe "value" is merely a buzzword that means absolutely nothing and, at most, is an early negotiating tactic directed at agents who might think a new Bucs regime will overpay.
The reality is nobody knows what's in Licht's head when he speaks of "value." 
However, we do know Lovie Smith is in charge in Tampa, the same guy who coveted Peppers in Chicago. And why did Lovie yearn for Peppers? Because his desire for Gaines Adams the previous season led to the failed Bears move of overpaying the Bucs for Adams with a second-round pick.
We also know Lovie is a guy who undeniably said recently that there's no reason for the Bucs to hold back a penny of available cash.  
"We need to get our new general manager in here, but just as a general rule, you know there's a reason why there is a salary cap.  And we want to use all of our resources to get as many good football players in here. It's kind of as simple as that," Lovie told ProFootballTalk.com.

"We want to be right up; we don't want to have a lot of money in reserves. No one does. I mean you want to use money to get as many good football players. And it takes money to get good football players in here. So that's our approach."
"Value," of course, is an extremely subjective term. Bucs fans will learn what it means in Licht and Lovie's world when the free agency dinner bell rings March 11.