Hot Trend: Free Agent Defensive Ends
February 8th, 2014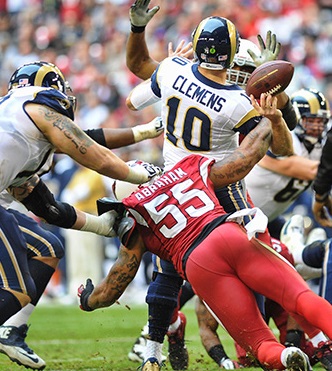 You've heard the annoying cliché repeatedly, "the NFL is a copycat league."
It's accurate. Teams are always looking at what worked for a competitor and/or are seeking a successful trend.
In addition to mobile, young, non-first-round-pick quarterbacks succeeding in the playoffs this season and last, another position sure to garner attention is defensive end.
Cliff Avril and Michael Bennett were relatively inexpensive, free-agent beasts for Seattle's Super Bowl team, and old John Abraham was back in the Pro Bowl with Arizona, which finished 10-6. The guy who replaced Abraham in Atlanta, Osi Umenyiora was pretty good, too. The 32-year-old stayed healthy and had 7 1/2 sacks and three forced fumbles.
Overall, the 4-3 DEs in free agency fared pretty well. Of course, there were injuries and busts (half a sack for Dwight Freeney comes to mind), but general managers likely won't be too gun-shy chasing pass-rush talent next month.
And that brings Joe to the Bucs. What is there to say? The Buccaneers are desperate for an edge rush. Last year's Bucs had a monster up the gut in Gerald McCoy and they couldn't find any heat off the edge. Blitzes and line stunts weren't too effective, either.
Joe would be stunned of Lovie Smith doesn't buy himself a proven pass rusher in five weeks.