GMC Haters Should Be Ashamed
February 10th, 2014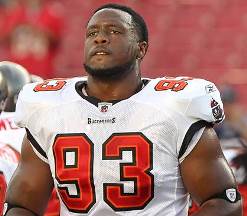 Bucs stud Gerald McCoy started off his career slowly, largely due to two consecutive season-ending injuries. As a result, GMC had few friends locally. Fans were down on him and loud radio voices raked him over the coals.
But GMC shut up the haters. With back-to-back trips to the Pro Bowl, GMC has been one of the very few bright spots on a Bucs team seeking its first playoff win since the Super Bowl of February 2003.
In fact, the spreadsheeters over at ProFootballFocus.com have even gone so far as to rate GMC as the best at putting heat on quarterbacks.
@PFF: Tampa Bay's Gerald McCoy lead all DTs in 2013 with a Pass Rushing Productivity Rating of 11.1 (80 total pressures on 561 pass rush snaps)
Joe remembers this past fall when he asked Warren Sapp what he thought of GMC and Sapp looked directly in Joe's eyes and said that in some ways, he thinks GMC is a better player than he was. And this is coming from a Hall of Famer!
Yet there are still folks working behind a mic and some fans who to this day refuse to give GMC credit. What crosses Joe's mind is these people ought to be ashamed of themselves.