Down On Glennon, Johnny Football
February 24th, 2014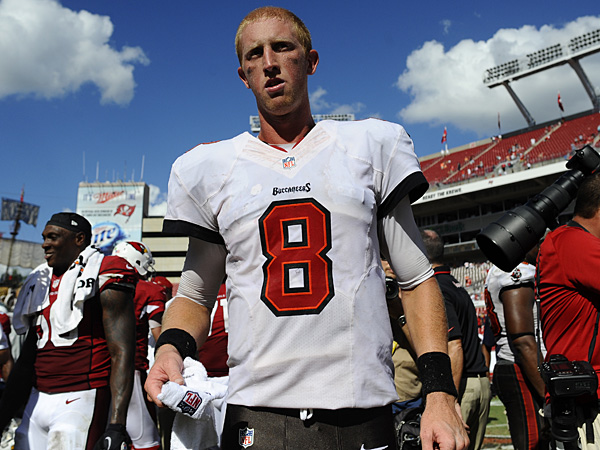 Calling Mike Glennon possibly the worst in-the-pocket mover in the NFL, former Bucs guard Ian Beckles said today on WDAE-AM 620 he's very down on the Bucs' signal caller and is not surprised Lovie Smith and Jason Licht have failed to endorse Glennon as the 2014 starter — in words or implication.
"It's to the point where when you're looking at it breaking it down … and you think to yourself, 'if you're going to have a quarterback that doesn't understand the game, man, make him a great athlete.' And we have a guy that doesn't understand the game. You might try to make him a classic pocket passer, but they don't even exist anymore," Beckles said of Glennon.
Glennon's 40 sacks in 13 starts was the second-worst, per-game ratio in the NFL last season. That troubles Beckles deeply. And he'd rather see polished retreads like Josh McCown, Matt Cassel or Matt Schaub under center for the Bucs for the next year or two, if Tampa Bay can't find what it wants in the NFL Draft.
"I don't want to sit and wait to watch Mike Glennon develop into a below-average quarterback. I don't want to watch that," Beckles said. "He was a third-round pick for a reason. And we were the 32nd-ranked offense for a reason.

"In the pocket, I don't know if [there's] anybody worse in the pocket.  As a lineman, giving up sacks has a lot to do with getting beat in front but it has a lot to do with the feel of the quarterback, too. … Glennon just fades and gets sacked. As I lineman it drives me crazy."
Beckles went on to explain that Johnny Football is no solution because he's another Robert Griffin, III, someone whose style of can't physically withstand the rigors of the NFL.
Regular readers here already know Joe's long-standing position on Glennon, which is similar to the Buccaneers' current public stance: Glennon didn't do nearly enough to keep the Bucs from hotly pursuing an alternative.
The free agency bell rings in exactly 15 days. The NFL will quickly find out what the Bucs' brass truly thinks of Glennon.