Bullish On Michael Vick
February 14th, 2014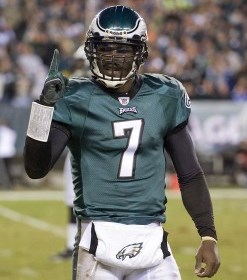 If one is to read the tea leaves and read the smoke coming from One Buc Palace, at the very least the Bucs will pursue a quarterback to compete with Mike Glennon. Joe has no issue with that at all. Competition, as former Bucs commander Greg Schiano preached, is always good.
For Tampa Bay Times sports scribe Tom Jones, that competition comes in the form of free agent southpaw Michael Vick. Jones believes the Bucs not just should sign Vick, but before dusk sets on March 11, the first day of free agency, Vick should be breaking down tape with Bucs offensive coordinator Jeff Tedford at One Buc Palace.
But if you're the Bucs, you could use talent anywhere you can find it. If you're the Bucs, you need to take some chances.

If you're the Bucs, you should just do it.

Sign Michael Vick.
Unless the Bucs draft a quarterback in the first round, yes, Joe must agree with Jones, but the draft is in May. Jones also takes a compelling stand saying if Vick is signed, the Bucs will not draft a quarterback in the first round. In his words, you don't draft a guy seventh overall to take notes and wear an earpiece on the sidelines nursing hangovers in the brutal Florida sun.
Now, this is where it gets hairy for the Mike Glennon Mob and Joe advises, for their sake, to click on another story right now to prevent their blood pressure from hitting the ceiling. Jones cannot envision a bright Bucs future with Glennon as the starting signal-caller.
But, as far as Glennon goes, I still just don't see it. I never saw that magic moment, that flash of brilliance that convinced me he can be a future star. Frankly, he looks like a career backup.
Joe is pretty much in the same boat. For the Mike Glennon Mob, Joe really wants to see what you see in the man, aside from maybe five possessions (in 13 starts). Joe really wants to catch what he is missing in Glennon.
This much you can take to the bank: If Glennon starts this season and ever made a Pro Bowl with the Bucs, then Joe would happily buy his jersey — just like the wager Joe proposed when leaky Rip Van Freeman was starting.