Another Downer For Donald Penn
February 25th, 2014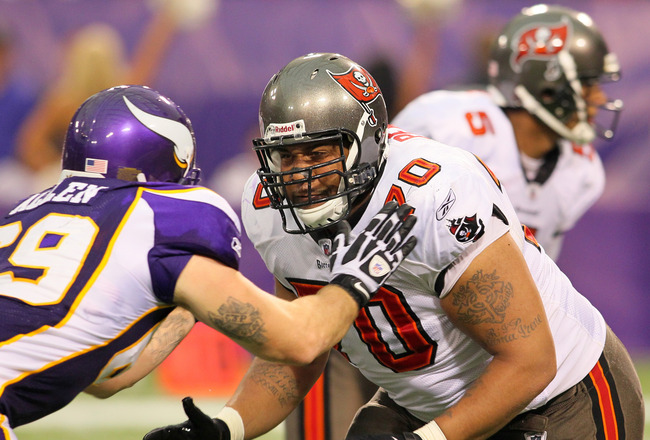 A man who once relied on Donald Penn to cover his backside now seems to want to run him out of the Tampa Bay area.
It's been a rough handful of days for Penn, the Bucs' every-game left tackle since he took over the job early in the 2007 season. First, Lovie Smith offered discouraging words about Penn to Roy Cummings of The Tampa Tribune. Then word broke of the Bucs eagerly sniffing Chiefs Pro Bowl left tackle Brandon Albert, who could be a free agent in two weeks. This morning, former Bucs quarterback Jeff Garcia piled on in a backhanded fashion, saying the Bucs' draft priority with the No. 7 overall pick should be one of the blue chip offensive tackles available.
Garcia, when not frolicking with his amazing wife, is seen regularly on NFL AM on NFL Network and called into the Tampa-based Ron and Ian show this morning on WDAE-AM 620.
Garcia went on to say he'd recommend the Bucs address a pass rusher in the second round, such as a favorite of his, quotable Dee Ford out of Auburn, or Notre Dame's Stephon Tuitt.
As Joe's written previously, Joe doesn't get all the anti-Penn sentiment. The Bucs have bigger concerns than replacing a durable, average-at-worst left tackle who earns middle-of-the-road money at his position.
You can listen to Garcia's full WDAE-AM 620 audio below.