Winslow Victim Of Wardrobe Malfunction
January 17th, 2014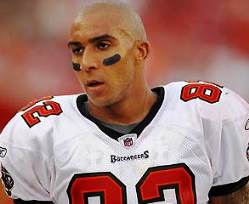 This is getting better by the moment.
Yesterday, a report came out that a woman claimed DJ Toes on the Line, aka Sgt. Winslow, aka, former Bucs tight end Kellen Winslow, Jr., was seeking chicken and choking his chicken in the upscale privacy of a New Jersey Target parking lot.
The publicist for DJ Toes on the Line, Denise White, was outraged at the allegation, claiming Sgt. Winslow was changing clothes.
"Kellen pulled over to a parking lot to smoke what he thought at the time was a legal substance. He changed his clothes in his vehicle as not to smell like smoke when he returned home. There was absolutely nothing inappropriate that took place and if there was police would have investigated further and charged Kellen which they did not. This will be the only time we will comment on this unfounded and ridiculous claim."
Now Joe isn't sure what role the two jars of Vaseline found with Winslow played in the changing of clothes, nor how one can (ahem) stand at attention just by changing clothes, unless someone is a weirdo J. Edgar Hoover-type and gets off wearing women's lingerie.
Also, lost in the claim that Sgt. Winslow was choking his chicken (allegedly) is that he was also smoking fake pot, which his publicist freely admits.
If Joe is doing his math right, per White, Sgt. Winslow would catch more hell from his wife from smelling like fake pot than if she found out he was dancing with himself (allegedly).
Joe still isn't sure why one would need an extra set of clothes in his car just to whack off smoke fake dope.
Additionally, Joe likes good food and likes chicken but never thought Boston Market was so good you'd have to, well, you know, in the car.