Too Much Power
January 7th, 2014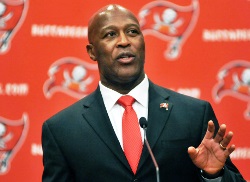 Joe has written several stories about new Bucs coach Lovie Smith and his unprecedented power over football operations. Joe thinks this is one reason Bucs rock star general manager Mark Dominik was asked to clear out his desk: Lovie didn't want interference from Dominik; he wanted his own man.
Well, Pat Yasinskas lauds the recent moves of the Bucs, including the hire of Lovie, but the ESPN Bucs beat writer is uncomfortable with Lovie wielding as much power as Bill Belicheat with the Patriots, sans the resume of Belicheat (or many other top coaches).
I've covered a variety of setups through the years. But the two most successful were coach Tony Dungy and general manager Rich McKay in Tampa Bay, and coach John Fox and general manager Marty Hurney in Carolina. In both situations, there was an equal partnership.

Dungy and McKay used to like to say their choices never came down to a final say because they always reached a consensus that included input from other members of the coaching staff and front office. Hurney and Fox used to say that they disagreed on a fair amount of things. When they didn't see eye to eye on an option, they didn't take it. Instead, they would go with another option that both were content with.
Joe is very much on board with Yasinskas here. As Joe wrote yesterday, checks and balances are healthy for any organization whether it's the federal government, the bar on the corner or the Bucs.
Look, Mike McCarthy answers to a general manager. Jim Harbaugh answers to a front office man. So, too, does his brother John in Baltimore. And Mike Tomlin. And Sean Payton.
Nothing against Lovie at all. He wowed Joe yesterday. But let's be honest, the Harbaugh boys, McCarthy, Tomlin and Payton have more pelts on the wall than Lovie.