The Quarterback Quandry
January 12th, 2014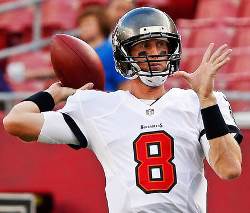 This nagging little issue won't go away until the Bucs have a quarterback. Fans want one. Joe is sure Team Glazer wants one. Joe wants one. Joe is not sure what new coach Lovie Smith thinks.
This quarterback question was lobbed at Pat Yasinskas of ESPN, and he too understands where Bucs fans not in the Mike Glennon Mob are coming from.
Matt in Tampa asks if I think the Bucs will make a run at a "franchise quarterback" or go with Mike Glennon.

Pat Yasinskas: Matt is one of many asking some variation of this question. My honest answer is I think Glennon can be a good quarterback with a good team around him. I'm not sure he can carry a mediocre supporting cast. At the very least, I think the Bucs have to bring in someone to compete with Glennon. At the most, I could see them using their first-round draft pick on a quarterback. After all, the other three teams in the NFC South all have franchise quarterbacks. If the Bucs want to compete with them, it would be nice to have a franchise quarterback.
Here's the thing: Just what NFL team is going to give up a "franchise quarterback" who has anything left in the tank without demanding numerous draft picks? That is, unless you consider Kyle Orton or Matt Cassel a franchise quarterback (clarification: Joe does not).
Yasinskas is spot on. If the Bucs were loaded on offense, the Glennon would be OK. But the Bucs have the 32nd-ranked offense, and Glennon simply didn't show Joe this past season he could put a team on his back and carry an offense.
Look, didn't we all go through this same charade with leaky Rip Van Freeman? That the offense just had to be perfect in order for Freeman to succeed.
Is too much to ask to actually have a quarterback who makes his teammates around him better?