The Power
January 27th, 2014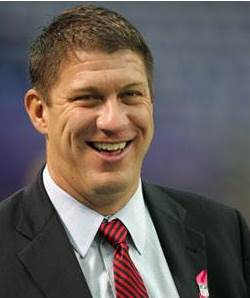 Bucs fans are absolutely captivated by who possesses power at One Buc Palace not named "Glazer," who calls what shots when and why? The subject never seems to stop and likely won't until the Bucs state publicly where the buck stops on what decisions.
Of course, the odds of that happening are about the same odds of Joe returning from Jersey this week to find a cold, shivering Rachel Watson waiting for him at his front door.
After the Bucs hired Jason Licht as the new general manager, Barista-training, pedestrian-bumping, olive oil-lapping, popcorn-munching, coffee-slurping, fried-chicken-eating, oatmeal-loving, circle-jerking, beer-chugging, cricket-watching, scone-loathing, college football-naïve, baseball box score-reading, Peter King, of SI.com and NBC Sports fame was intrigued by Licht's words about who calls what shots with the Bucs, he or coach Lovie Smith?
I think new Tampa Bay GM Jason Licht (pronounced "Light") had an interesting take the other day when asked who would have the final say on the draft—him or coach Lovie Smith. (It's widely thought around the league that the buck will stop with Smith on all football decisions.) Said Licht: "There will be no arguments on draft day. Going in to the draft—arguments are healthy. I've had arguments with every coach that I've worked for, and every GM. Some of them would be happy to tell you about them, I'm sure. We'll have arguments on players. I'm going to plead my case. I told Lovie, during the interview process, that if he doesn't like a player, I'm going to be in his office 20 times trying to prove why my player, that I like, is the guy that we need, and I'm sure he'll do the same thing. If we don't come to an agreement, the answer is easy, it lies in itself—we won't take that player." I'll be interested to follow that down the line.
It just seems to Joe that when it comes to the 53-man roster, that's Lovie's call. When it comes to personnel decisions and the draft, that's Licht's call.
Last week Licht told the Tampa Bay pen and mic club that there were about six or eight other teams that had the same power structure as the Bucs now do. But he declined to identify the other teams, not wanting to break NFL protocol of discussing other teams' "propitiatory" information.
Look, if the Bucs win, Joe doesn't think any fan will give a damn who has final say on anything.