Tedford Has Identified Fixes For Glennon
January 16th, 2014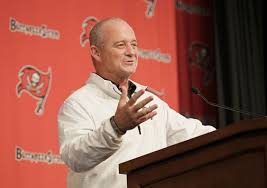 The last Bucs head coach swore that Mike Glennon was making receivers better because he was so darn accurate. Greg Schiano even took it a step further with a backhanded slap to Josh Freeman, saying Bucs receivers needed time to get used Glennon's pinpoint throws.
But while Schiano was raving about Glennon's accuracy, he strangely believed that quarterback mechanics were not something to be taught at the NFL level — even with a rookie, or even to sleepy, leaky, erratic Josh Freeman.
This never made an ounce of sense to Joe. How the hell could it? And Schiano claimed to be a details guy?
Thankfully, new Bucs offensive coordinator Jeff Tedford said yesterday that not only is he jacked up to teach mechanics, he knows NFL quarterbacks are eager to learn. Tedford developed six first-round QBs in college and said he still talks about the fine points with Aaron Rodgers, his prized pupil, and others.
He referenced a recent lake-house, summer sit down with Rodgers at Tedford's home in extreme Northern California, where they had a good time and talked shop.
Tedford, a former CFL quarterback, told Joe that he's already identified three mechanical elements where Glennon needs improvement.
"I think there are some quarterback fundamentals we can help him with," Tedford said of Glennon.

"Whether it be with your drop and your footwork, getting away from the center, your ballhandling, your efficiency in your release, or your separation in the throwing motion, all those type of things each one of those guys, all six of those guys that went in the first round, all had something we needed to work on. And so I can see a few of those things with [Glennon] that I think we're going to be able to show him, and I think it's going to help him with a couple of things.

"I'm really looking forward to getting on the field with Mike and going over some drills and some fundamentals mechanically that may help him, whether it's just getting the ball out, you know, a hundredth of a second faster. … Thinks like that. You know, I think they're all hungry [to learn] Even Aaron Rodgers and I talk about those type of things, you know, fundamentals and stuff like that. I think they're all hungry to improve."
Yeah, it was just a 20-minute news conference, but Joe got a great vibe from Tedford. The guy will command respect. That doesn't make him a great coordinator, but it's a good start.
And it struck Joe that Tedford said he's close with just about all of his ex-players in the NFL. And that's not just a handful, Tedford has nearly a whole roster in the league and a quite a few studs.
Now given Tedford's proven ability to develop and team quarterbacks, wouldn't it be outrageous if the Bucs didn't draft the most talented one they can get their hands on?