Sapp: Job Is Too Big For Glennon
January 31st, 2014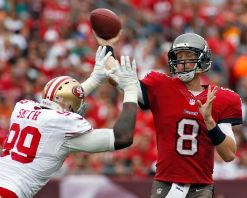 Warren Sapp went on a long rant to Joe about one of the changing states of the NFL this week.
In case you missed it:
"Defenses don't win championships. The last No. 1 defense to get to the Super Bowl and win was me. That's 11 years ago. So the thing about it is defense gives you a chance now, but offense has to win it for you," Sapp said.
"Giants? The defense gave them a chance, Eli [Manning] won it for them. Packers? Defense gives them a chance, Aaron Rodgers won it for them, 3rd-and-10 with Troy Polamalu's in the middle of the field spinning around. That's how you gotta win it now. You're not going to go out and stop people any more.
"You just can't impose your will on defense any more. [Twenty-five years ago], when [Giants linebacker] Carl Banks used to go out on the slot, the slot disappeared. (laughs) When Wilber Marshall went out on the slot, the slot disappeared. You didn't have a slot receiver. Wes Welker would have been tartar.
"The middle was a place you had to circumnavigate. Andre Reed used to be a master of the middle of the field because you had to circumnavigate it, you'd get knocked out going through the middle of that field.
"There's an Autobahn built in the middle of the field now."
After that take, Joe thought it would be an appropriate time to ask Sapp about the state of the Bucs' quarterback position.
JoeBucsFan.com: With that much emphasis needed on offense, do you think the Bucs need to address the quarterback situation this offseason?

Warren Sapp: So you're telling me they're going to win with Glennon? Are you asking me if they can win with Glennon?

Joe: Yeah, that's what I'm asking. Do you think Glennon can become the guy for the Bucs?

Sapp: No. That kid, it's too big for him. It's too big for him. I can see it.
Of course, opinions vary on the viability of Glennon across the NFL. However, Joe does give plenty of weight to Sapp's. In addition to being a Hall of Famer, it's clear Sapp watches all Bucs games, breaks down game film and keeps close tabs on the team and cares deeply about all things Bucs.