Ronde, Penn, McCoy & More React
January 2nd, 2014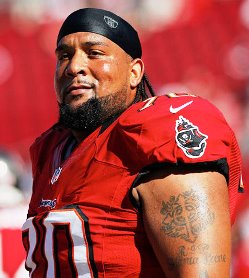 The ink is dry on Lovie Smith's contract with the Buccaneers! The team made its big news 100 percent official today and shared comments from many former and current Bucs.
Joe's got them all — all the feel-good takes you could imagine, from Mike Glennon to Derrick Brooks to Charles Tillman and Ronde Barber and beyond.
FORMER BUCCANEERS ALL-PRO DEFENSIVE BACK RONDÉ BARBER
"I was very pleased to hear the news that the Buccaneers are hiring Lovie Smith to lead the team. Having worked with him early in my career, I speak from experience when I say that I believe he is the right man for the job. His input played a large role in shaping me into the player I became, as he helped me develop my skills as an inside corner. Lovie has been successful at every turn and I have no doubt that his calm and deliberate leadership will help mold the Bucs from simply a team with talent into a team capable of bringing another championship to Tampa Bay." 
FORMER BUCCANEERS ALL-PRO LINEBACKER DERRICK BROOKS
"First off, I think it's a really good fit, even use the word great at this point. I echo a lot of the same words that Herman Edwards and Coach [Tony] Dungy used in terms of Lovie. Knowing how this franchise was built from the ground up and the successes that we've gone through, knowing the layout of the organization from top to bottom and being able to navigate through that and be a part of that building process and also a part of the sustained success. He was able to witness from afar and being on a competitive field with his other jobs, he was able to see how this franchise was built, how we maintained success and is very familiar with the structure of our organization. I think that's going to be a benefit in terms of his coaching tenure here and a lot of personal attributes of him as a man, I think he'll being able to make his own footprints in this organization along with that. Again Coach Dungy gave Lovie his start here and he understands those principles and values and he was able to take those with him in his leadership position with St. Louis as well as Chicago. I think it's great fit."
 BUCCANEERS DEFENSIVE END ADRIAN CLAYBORN
"I've just heard nothing but good things from all the players, former coaches and the fans from Chicago. Getting this type of news so early kind of gives me a little boost to work harder. Can't wait to get him down here and play some fun football." 
FORMER BUCCANEERS HEAD COACH TONY DUNGY
"I think the fit is going to be tremendous. Number one he knows the area, he knows how the team got built into a Super Bowl winner, he knows how to win in the NFL, but more than that, I think he is going to build just a chemistry and camaraderie in that locker room and in the whole organization that's going to resemble what we had before. I'm really excited and I know the players are going to be ecstatic playing for Coach Smith. 
"The first thing you want as a player is you want a coach that can help you win and I think that credibility factor is going to be there right from the beginning. He's not going to have to sell them on his ways. He's not going to have to convince them that this is a winning formula, they're saying that and so you're over that hurdle right away. Number two just come to work every day and be energized, be a part of a group that is so tight and so together. There's teams – regardless of what you want to say about them – they were a unit that would fight together and for us as a group I think this is going to be the same way. I just think these guys are going to be thrilled to play for Lovie and to see that type of coaching style come [to Tampa Bay] I think is tremendous.
 "He creates a team atmosphere where everybody is in it together and guys end up playing their best football. It's going to be the type of thing where guys I think will play their best and when you get that a lot of good things can happen. 
"I know the team is going to win, but they're also going to be coached in the right way. The team is going to represent the community the right way and these young men that come in the door are going to see a role model of how you do things, not only on the field, but in life. To me that's important. I think they've got a real winner on and off the field and it's going to reflect, not only with their record, but it's going to reflect in how they do things. I think our community is very, very fortunate."
 ESPN ANALYST & FORMER BUCCANEERS ASST. COACH HERM EDWARDS
"Our philosophy was real simple: It's a player's game and it's about respecting the game and creating an environment where these guys can have some success. It's about building team chemistry, and Lovie will do that." (Courtesy 620 WDAE) 
BUCCANEERS QUARTERBACK MIKE GLENNON
"I'm excited about getting to meet Coach Smith and I've heard nothing but good things about him. Obviously, he has a great track record in the NFL, so I think it's a great hire. He knows how to win, has a great mind for defenses, and I've also heard he's just a great person. I'm looking forward to meeting him and the rest of the coaches; hopefully, we can get started as soon as possible."
 CHICAGO BEARS RADIO NETWORK ANALYST JAY HILGENBERG
"I think Lovie Smith is an excellent football coach.  The thing I like about Lovie is the players respect him, the players loved to come to work and win for Lovie which is an amazing thing how he can create an atmosphere like that.  I think Lovie Smith is an unbelievably great choice for the Buccaneers." (Courtesy 620 WDAE) 
BUCCANEERS GUARD DAVIN JOSEPH
"To go out there and get a big-name coach that's been able to have a lot of success in this league and get his talents to come to Tampa, it's just tremendous for the organization, for the community and for the NFL.
 "I've met a lot of guys who have played for Lovie and everybody talks so highly of him. He seems like a great human being. You can learn something from every coach, every player, but it seems like Lovie has this relationship with his players and coaches that leaves a big impact on people. I'm looking forward to meeting him and getting to know him.
"It's just really a certain amount of leadership that a Super Bowl-caliber coach brings to an organization. I feel, with his experience, his great leadership, I see a route that he could take this Tampa Bay team and he can put something out on the field that could be very exciting for everybody."
 BUCCANEERS RUNNING BACK DOUG MARTIN
"I'm sure this organization will have a lot of confidence in what Coach Smith can do and what he can bring to this team. I'm excited to get back on the field. It's been a long time since the injury in Atlanta and it's given me a lot of time to get better with my game, both physically and mentally, so it's going to be a good year."
 BUCCANEERS DEFENSIVE TACKLE GERALD McCOY
"I don't think they could've chosen a better guy – not just him as a coach, but as a person. How he treats his players, and just being a player's coach and his whole philosophy, he's changed a lot of people's lives. I've talked to a bunch of people who've said I'm going to love playing for this guy, so I'm really excited to see what he brings to the table. I think it's going to be great.
 "This past season didn't end the way we wanted, but I'm a competitor so it's really exciting to get back to it. He's a defensive-minded coach and he's got a history with the Bucs. The Bears' defense, when he was there, was top in the league. A defensive-minded coach, I'm a defensive player – I think it's going to be awesome. Can't wait."
 TACKLE DONALD PENN
"He's the first guy that I wanted to get and I'm excited that it came true. I've heard a lot of great things from guys throughout the league – I even had some guys that have played for him text me after they found out, telling me how good of a coach he is and how much he will help our team, how much he'll improve our team. I think it's going to help us a lot, especially having a young team, an experienced coach like that coming in who's been there. As a coach, I don't think you can ask for a better situation with the talented players we have on our team. From what I'm hearing, he's the right man for the job and he's going to take us in the right direction. That really makes me excited." 
FORMER N.Y. JETS GENERAL MANAGER MIKE TANNENBAUM
"It really makes a lot of sense. Lovie's really well thought of around the league, he's been highly successful, knows the organization very well, and I always think it speaks so highly of people when they come back because you know that he treated everybody with respect while he was there. Obviously his track record at Chicago speaks for itself, to get a team to the Super Bowl and three different playoffs." (Courtesy of 620 WDAE) 
BEARS ALL-PRO DEFENSIVE BACK CHARLES TILLMAN
"The effect he had on me as a player was that he challenged me to be better than everybody else at my position. He told me to be bold and brave, and I just thank him for that. Whatever I did well, he challenged me to do it again, and again, and again. His standards for me were extremely high, and things he asked me to do … sometimes I succeeded, and sometimes I failed. But in the end, I think he was pleased with how I responded overall. As a person, he was a guy I would call for advice. When my daughter was in the hospital, he was the first one there. Him and our defensive coordinator, Bob Babich. He wasn't just a coach; he is a great man and a great person, and there was a friendship involved as well." (Courtesy of Sports Illustrated).
FORMER NFL ALL-PRO DEFENSIVE BACK AENEAS WILLIAMS
"I'm so excited for the Tampa Bay Buccaneers. I can say, without reservation, Lovie is one of the best coaches I've ever been around. He's one of the best coaches I've ever played for. I was brought in [to St. Louis] via trade from Arizona and there were eight new starters on defense. He was coming to get the defense up to the level that The Greatest Show on Turf has already gotten to. The first thing he did was establish, when he brought me in, who I was and what the expectations were that I was to add to the defense and how I fit in the structure. That was done immediately as soon as my wife and I got off the tarmac. Then from there, it was a high degree of respect and motivation, from a player's standpoint, but the other thing was the high level of accountability – guys being held accountable for their responsibilities on and off the field.
 "I've never seen Lovie display anger from a standpoint of if something bad is happening on the field or we have negative plays happen, he was always the stabilizing force to get us to be able to move past what happened and then take us to how we're going to be successful going forward. That's one of the greatest characteristics I've ever seen in a coach. 
"The respect you have for him because of his character and how he treated us as players, it commanded us to want to play with excellence so that we could have success and also not want to disappoint him. He had a way of allowing that without it being demeaning – respecting his players, holding them accountable, but also there was a sense that, yes, we wanted to do it to be the best we could be, individually, but also, I never wanted to disappoint him and his expectations of me as a player."
 WHAT THEY ARE TWEETING 
CHICAGO BEARS LINEBACKER LANCE BRIGGS
"Big Congrats to Lovie Smith. Wish him the best of luck in Tampa. NFL is better with him in it."
 BUCCANEERS TIGHT END TOM CRABTREE
"Pumped."
 FORMER BUCCANEERS HEAD COACH TONY DUNGY
"Congratulations to the Bucs. I think they made a very good choice in hiring Lovie Smith. Now I'm excited about watching the Bucs next year!"
 FORMER ALL-PRO LINEBACKER LONDON FLETCHER
"Lovie Smith is a great hire for Tampa, had him as DC in St. Louis, excellent coach!" 
FORMER BUCCANEERS WIDE RECEIVER JOEY GALLOWAY
"Great coaching hire by the @TBBuccaneers. Lovie Smith should have never been out of a #NFL job." 
FORMER BUCCANEERS SAFETY DEXTER JACKSON
"Congrats to Lovie Smith. Tampa has a man with class." 
CHICAGO BEARS WIDE RECEIVIER ALSHON JEFFERY
"Big congrats to Lovie Smith. Wish him the best of luck in Tampa." 
BUCCANEERS DEFENSIVE TACKLE GERALD McCOY
"Lovie Smith……….. Grade A!! Gonna be fun!!! Wonder what else they have in store!?! Hmmm…." 
BUCCANEERS CORNERBACK DARRELLE REVIS
"I'm excited about the future for the Tampa Bay Buccaneers. Heard some great things about Lovie Smith & can't wait to finally meet him." 
CNN/TURNER SPORTS REPORTER RACHEL NICHOLS
"Great hire. Always notable how much respect his players have for him." 
FORMER BUCCANEERS ALL-PRO LINEBACKER HARDY NICKERSON
"Great hire by the #Bucs in Coach Lovie Smith. Very excited for him!"
 ESPN ANALYST DICK VITALE
"Great news Bucs hire LOVIE SMITH!"