Power Likely A Motivator For Lovie
January 2nd, 2014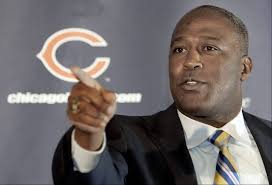 Pete Carroll and Chip Kelly signed NFL head coaching contracts out of the college ranks for about $7 million per season.
Jeff Fisher also signed for $7 million a year back in 2010.
So why are reports claiming Lovie Smith is finalizing a head-coaching deal worth about $5 million per season with the Buccaneers?
That level of pay is somewhat surprising given all the reports that the Detroit Lions and Washington Redskins wanted to interview Smith, especially Smith has a relationship with Lions general manager Martin Mayhew and Danny Snyder throws around wads of cash in D.C.
Sure, Smith might love Tampa (he was Tony Dungy's linebackers coach here for five seasons), the beach and red uniforms, but Joe thinks it's more likely Smith rushed to make a deal with Team Glazer because of the power he'll be afforded to build his team his way.
Joe already hears fans chattering about how the Bucs won't do this or do that with Darrelle Revis, or won't do this or do that on offense, etc. Make no mistake. Smith will get everything he wants this offseason. The man is in charge.
Speaking this morning on WDAE-AM 620, Tony Dungy, Smith's good friend, talked about how he's heard Team Glazer is still seeking a general manager and implied it will be a guy tailored to work with Smith. That's a great indicator how much power Smith will carry.
The Bucs situation seems like a dream for Smith. He's top dog with big-time defensive pieces in place, massive salary cap room and a blessing to build it his way. As Dungy said as well, the defense, regardless of the coordinator, will be Smith's and the Bucs will be a defensive team.