"Off An ACL Injury, It Was A Good Season"
January 2nd, 2014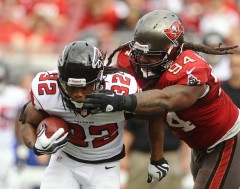 Neat little video linked here of Adrian Clayborn talking to an Iowa TV station yesterday before the firing of Greg Schiano. They caught up to the beloved former Iowa Hawkeye during Outback Bowl festivities in Tampa.
Clayborn was upbeat about his six-sacks season in 2012, and it may have been telling that Clayborn felt compelled to reference his 2012 knee surgery before declaring "it was a good season."
It surely will be a make-or-break year for Clayborn in 2014, his fourth in the NFL. First, he'll likely have to battle for snaps with whatever edge-rusher talents Lovie Smith procures, and he's got to produce more consistently.