Mike Williams And Kenny Britt
January 30th, 2014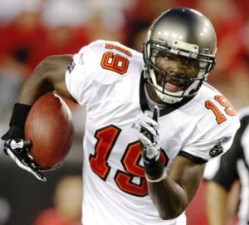 Now this is one way to get Warren Sapp off the front pages.
The fellows over at PewterReport.com did some nice digging and have learned that because of his dubious Twitterings and postings on Instagram, along with being late to meetings and rehab assignments, Bucs receiver Mike Williams "accumulated several fines totaling more than $200,000" last season
UPDATE/REFUTE BELOW:
Now Joe also follows Williams on Twitter and has noticed his Twitters have gone in recent months from innocent (a picture of him in the emergency room, a picture of him holding his son) to just plain weird.
Hey, Joe posts weird things on Twitter, too, especially late on Friday nights after Joe has been at a watering hole for a time. Just because Joe finds what Williams' Twitters weird doesn't mean they are bad. It's not like he's Twittering photos of his weed stash like knucklehead Davone Bess did.
Joe knows former Bucs commander Greg Schiano really, really, really hated Twitter. He found it to be an affront to the American way of life and all but banned players from using it. So Joe can see why the Bucs were starting to sweat reading Williams' timeline of late.
But what does get Joe's attention is that he was (allegedly) channeling leaky Rip Van Freeman and being late or blowing off mandatory meetings, per Reynolds. If true (Joe has not yet heard back from the Bucs for their side of the story), this is alarming and at best, concerning. Now the part of this story where Joe drives off the cliff is that the Bucs, Reynolds writes, were so upset with Williams, the Dominik-Schiano regime pondered the possibility of cutting him and replacing him with noted jailbird Kenny Britt.
So the Bucs were going to wave goodbye to Williams, in part, because he Twitters weird things and hangs with some allegedly shady characters, and replace him with a guy who has been pinched so often he is regularly invited to police Christmas parties?
What had former Bucs rock star general manager and Schiano preached for years? Buccaneer Men, guys who are stalwarts in the community, players that kids can look up to, players that parents point to as role models.
Britt sure as hell isn't a Buccaneer Man. But he was a Rutgers man.
UPDATE: Woody Cummings reached out to Williams' agent who denies knowledge of Williams' breaches with team rules.
@RCummingsTBO: The agent for Bucs WR Mike Williams tells TBO he is not aware of Williams being fined for missing team meetings or rehab appointments.

@RCummingsTBO: NFL does not require players on IR to attend team meetings so any meetings missed by Willias following his placement on IR are not fineable.

Not long after that report Joe has yet to hear back from the Bucs for their take on the subject.