Major Endorsement Of Mike Glennon
January 2nd, 2014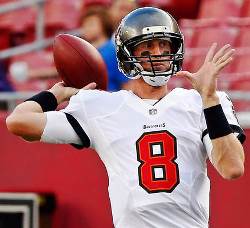 Greg Schiano isn't the only serious football man who stands firmly in Mike Glennon's corner.
There is another man, a well-respected former Buccaneer, who believes the Tampa Bay can be serious winners with No. 8 calling signals as their starting quarterback.
Joe was somewhat stunned.
Earnest Graham, Bucs fullback/running back/special teamer from 2003 to 2011, who follows the Bucs closely, says Glennon has all the skills needed for major success.
"I don't think they do [need to address quarterback]," Graham told WDAE-AM 620 host Tom Krasniqi this evening. "Of course, I like Johnny Football like everybody else. But I think [Glennon] is a very, very solid player.  I think he's a guy that can make all the throws. He has better than average mobility. I mean, he's what you like in a pro quarterback. I think you can win a lot of football games with a guy like him. So I don't think they really need to address it unless they find a guy that they really, really, really like. 

"Other than that, no; I think they should stay put with him. I like Glennon. I like Glennon. I like the way he throws the ball. You know, he makes very, very quick decisions. He's a very decisive guy. He has, you know, very good presence in the pocket. I like him. I think you can win a lot of games with a guy like him."
(Yes, Joe caught that unsolicited Johnny Football take).
Graham went on to say the Bucs are desperate for a speed receiver who can "go the distance." Graham  said he was not slighting Vincent Jackson and Mike Williams only acknowledging their limitations. "They're going to make a ton of catches, but you're not really worried about them taking it the distance."
Speed is a difference-maker of various levels, Graham said, "I know that from being on the field with Joey Galloway."
Graham said the Bucs' lack of speed at receiver had defenses effectively keying more on Doug Martin as the only guy that could bust open the game.
You can catch the entire interview below via 620wdae.com audio.