Lasting Contender Returns
January 3rd, 2014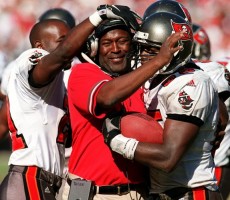 Back in the spring of 2010, former Bucs media relations chief Jonathan Grella arrived on the Tampa scene and Joe found it to be no coincidence that soon after, Raheem Morris and former rockstar general manager Mark Dominik started talking about how the team was trying to build a "lasting contender."
It was a great catch phrase that helped Raheem clean up his often rambling messages, but it was one dripping with irony.
After all, Team Glazer fired lasting-contender Chucky after consecutive 9-7 seasons and three division titles in seven years.
Raheem got canned after his lasting lunacy, and the New Schiano Order was dumped after lasting line stunts and lasting losing.
Now Team Glazer has turned to Lovie Smith, a guy who built a true "lasting contender" in Chicago. But after nine years and several strong Bears teams, Chicago owners canned Lovie after a 10-6 season in 2012. They had enough.
Joe thinks the moral of the story is that ownership and fans everywhere only want Super Bowls. Nothing else really matters, especially in the NFL, where all teams earn gobs of cash and a salary cap keeps a level playing field.
Team Glazer and Bucs fans feel great today because Lovie knows how to build a strong, albeit imbalanced, football team. That feels incredible in the wake of Raheem The Dream and Commander Schiano, two gambles that delivered one year of pleasure and four years of agony.
Today's "lasting contender" vibe in Tampa should stick around for a couple of years, but then Lovie, too, will have the grill fired up under him. To avoid that, the Bucs must become one of the six of 16 NFC teams in the playoffs, or Lovie will be no better than the last two head coaches.