Glazer Calls Lovie "Proven"
January 6th, 2014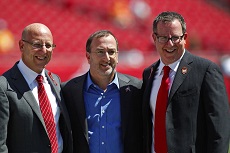 It's a big day for Bucs fans, as the Bucs introduce Lovie Smith at One Buc Palace.
Bryan Glazer took to the podium this afternoon and raved about their new leader.
Glazer said Lovie will "energize our fan base."
He said the Bucs owner sought "a strong leader with a proven and established track record," and Glazer went on to say Lovie "fit our criteria perfectly."
Stick with Joe through the day for so much more.