Akeem Spence Busted For Pot
January 15th, 2014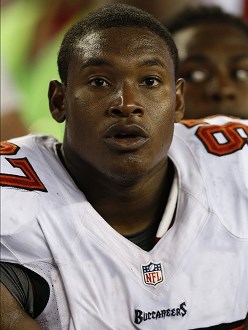 While this is news, Joe is not going to pound on a guy for this.
Bucs defensive tackle Akeem Spence was pinched for pot Tuesday after a traffic stop in Alabama. It was not a routine stop, as Spence was flying down the road at over 100 mph, reports NorthEscambia.com.
According to reports, Spence was stopped by an Alabama State Trooper who clocked him in excess of 100 mph. A search of his vehicle by a law enforcement K-9 located an unspecified amount of marijuana in his vehicle, according to authorities.

The 22-year old Spence was booked into the Escambia County (Ala.) Detention Center on charges of unlawful possession of marijuana second degree and unlawful possession of a controlled substance. He was released shortly after his arrest on a $3,000 bond.
Now while Joe won't hammer Spence, it's not good. Frankly, what bothers Joe more than the pot is that Spence was driving recklessly. When you are going that fast, you are just begging for a nasty wreck to happen, a wreck that not only puts innocents at risk, but just as importantly, puts Spence at risk.
If you want drive like Tony Stewart, either go to Daytona where they will let you drive on the NASCAR track, or fly to Germany and cruise the Autobahn. Besides, Spence is a good dude. Just did something dumb.