With The Fifth Pick In The NFL Draft …
December 1st, 2013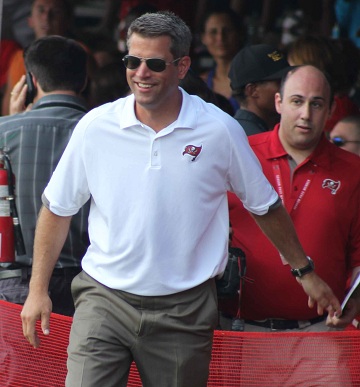 How bout them Vikings, helping the Bucs move up in the draft today!
With leaky, sleepy Josh Freeman as their third quarterback today, the Vikings' tag team of Christian Ponder and Matt Cassel led Minnesota to an overtime win against the Bears.
That means the Vikings are 3-8-1 and leapfrogged the Bucs in the 2014 NFL Draft sweepstakes.
The Bucs (3-9) entered today's game in Charlotte sitting in position for the No. 6 overall pick. And that includes Joe factoring in the NFL tiebreaker mechanisms.
Today's Jaguars win, and Atlanta knocking off the lousy Bills, made things tighter; several teams are tied with the Bucs with three wins. But the Bucs have played the toughest strength of schedule, which is unlikely to change through the remainder of season. That means Tampa Bay would lose all draft-slot tiebreakers with teams that share their record. The result of Washington (3-8) against the Giants tonight would not be relevant to any of the current tiebreaker scenarios.
The Bucs' "fourth-place" schedule this season gives them a tougher schedule than the Falcons. Those 2012 fourth-place teams on Tampa Bay's schedule turned out to be Detroit and Philly — two current division leaders.
Now Joe's rooting for the Bucs to win games. When the whistle blows, Joe's a fan through and through. But draft position is important — and there's a lot to consider with a top-5 pick or better.