Where Did The Needle Move On Schiano?
December 16th, 2013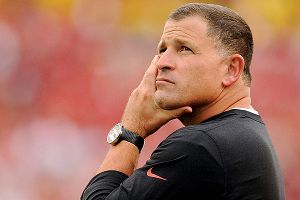 The infamous "Black Monday," when multiple NFL head coaches and their staffs are fired, is just 14 days away.
With no public blessing for 2014 from Team Glazer, Greg Schiano remains on a seat that could be yanked from under hiim. That's just a reality for any second-year coach of a 4-10 team in that situation.
Schiano's defense got clobbered yesterday. They allowed 187 yards rushing. They couldn't contain Colin Kaepernick. They didn't force a turnover. They tackled poorly. They gave up big plays. They were punished early — long before they were worn out from living on the field.
That's not a soothing day for the backers of the defensive head coach, the architect of the Bucs defense.
The Bucs offense? Well, the statistic tearing up local sports radio this morning reveals the Bucs averaged about one yard per drive for their double-digit possessions that weren't in the hurry-up offense.
Now that should never happen, even with a rookie quarterback and Skye Dawson on the field, especially at home. 
The Bucs' special teams? They weren't special yesterday.
It was a bad day for Schiano, if you believe his 2014 return is up in the air. But Joe doesn't think the Bucs' performance yesterday hurt Schiano much, if at all.
The bigger measuring stick likely comes Sunday in St. Louis, against an inconsistent team with a second-rate quarterback. If the Bucs don't look competitive in all three phases, then there's a big problem. What excuse would they have?
None.
Of course, a win would be nice, other than just competing well all around the field. In fact, a win would give Schiano five wins for the second half of this season. That would be an extraordinary accomplishment, one worthy of another year.