What Kind Of Season Is Vincent Jackson Having?
December 6th, 2013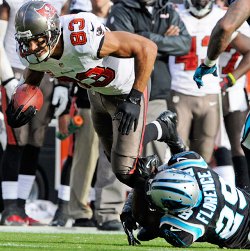 Vincent Jackson dropped his share of passes this season, fumbled a couple of times and hasn't looked like the same superstar player he was last season (minus getting caught from behind).
But Jackson also is racking up impressive numbers, despite the loss of Mike Williams' presence, a green rookie quarterback, a sleepy, leaky quarterback, and other factors.
With 61 catches for 963 yards, Jackson is on pace for a career high in receptions (81) and his fifth thousand-yard season. Seemingly gone are coverages, at times, rolled to Mike Williams. Gone are division foes still learning Jackson's abilities and role within the New Schiano Order offense.
Every week Jackson is a marked man, no matter what Skye Dawson, Tiquan Underwood and Chris Owusu have to say about it.
Joe's been critical of Jackson at times this season. Drops are drops, whether you're blocking icon Michael Clayton or a Pro Bowler. Nearly all are inexcusable, and Jackson had his share. And it's possible he's lost a third of a step, and he looks just a little less dangerous overall.
But Joe's been thinking more about Jackson and watching more tape in the wake of Jackson's hamstring injury that could keep him out of Sunday's Bucs-Bills game. Jackson's a damn fine player and perhaps Joe's been holding Jackson to too high of a standard. The guy's got a ton on his shoulders and hasn't wilted, all while being a leader of the offense.
Jackson's one of several Bucs veterans scheduled to earn massive non-guaranteed cash — $10 million — next season. While Joe thinks some of the other big-money veterans, especially on the offensive line, are playing for their Bucs careers in these last four games. Jackson shouldn't be worried. He's got to be a cornerstone of the offense here next season, regardless of the regime in place.