Twosomes
December 4th, 2013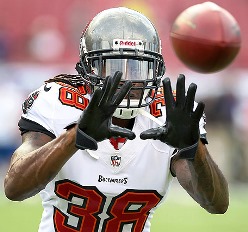 What's better than twos? Second-helpings. Double-dippings. Double-stacked. Double-breasted suits. Joe will let you play around with other pairs that are wrapped in goodness.
The Bucs believe good things come in pairs, as well. In fact, Bucs defensive coaches preach this to the secondary. That's what Dashon Goldson had to say about the Bucs leading the league in interceptions (with 17).
"Everybody wants to get their hand on the ball," Goldson said this afternoon. "That's what we thrive on in the secondary. We want to give the offense another chance to get in the end zone. Our goal is to get two [picks] at least a game. anytime we can get more, hey, the more the merrier."
Now who would have thought the Bucs would be this good against the pass last year?
The Bucs had a positively horrid secondary that would have made even Sean Jones cringe in pain. It was a complete and total embarrassment last year watching the Bucs try to stop even mediocre quarterbacks.