The Mighty Quinn
December 20th, 2013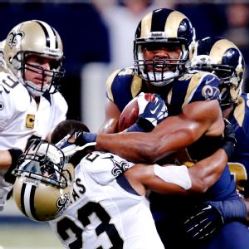 A physical front line really gives the Bucs offense fits. First it was Detroit, then Carolina, then San Francisco.
Uh, oh. Here comes another one. The Rams.
The Rams have an outstanding defensive line and one of the most underrated linebackers in Son of Animal, James Laurinaitis. Chris Long (son of Howie) and mighty Robert Quinn are incredible defensive ends.
How good is Quinn? Well, Joe's long-time friend, Mr. Multimedia of St. Louis, Bernie Miklasz of the St. Louis Post-Dispatch, documented Quinn's monster game in Sunday's upset of the Saints. Quinn was a one-man gang.
Quinn led the Rams to a stunning 11-point upset in a variety of ways.

Quinn had two sacks. He had four solo tackles. He pressured Saints quarterback Drew Brees into the interception that set up the Rams' first touchdown for instant momentum. That changed the game … immediately.

In addition to the two sacks Quinn had one hit and seven hurries for a total of 10 quarterback pressures. Quinn forced two fumbles but was only credited with one. He recovered one of the fumbles.
How out of control was Quinn against the Saints? He worked over Saints offensive tackle Charles Brown so bad that Sean Payton benched Brown in a desperate attempt to slow Quinn down.
Bucs commander Greg Schiano is so impressed with Quinn, who will tangle with Donald Penn Sunday, that Schiano invoked the name of Lawrence Taylor.
"Well he's got 15 sacks and seven forced fumbles, so that tells you something<" Schiano said. "He's as good at tomahawk chopping the backside of the quarterback – you haven't seen a guy do it with that effectiveness since L.T. [Hall of Fame linebacker Lawrence Taylor]. L.T., I mean, used to "WHAP" and knock that ball out with a vicious tomahawk chop and [Quinn] is bringing it that way. I mean seven forced fumbles, think about that, that's a lot of forced fumbles and what did he play 14 games? That's pretty substantial for a defensive end."
What, no love there for Simeon Rice?
Anyway, with the immobility of Bucs quarterback Mike Glennon, Donald Penn must slow Quinn down. Otherwise, Glennon will simply be eaten alive. And Bucs fans will be so hammered from trying to drink the depression away, they won't wake up until Christmas.