The Big Mistake
December 31st, 2013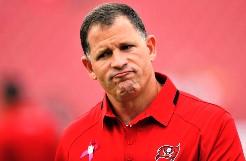 A lot of Bucs fans are pointing at former commander Greg Schiano as the root of all evil. Some believe former Bucs rock star general manager Mark Dominik was Lucifer personified.
Then there is the third rail. Pat Yasinskas suggests the blame for the woeful last two years isn't so much on Schiano as it is on the people who hired Schiano, and that is Team Glazer, so Yasinskas suggested on ESPN.com.
He was an unbending disciplinarian who was never going to be loved by his players. He was as opposite as you can get from his predecessor, Raheem Morris, and that's why the Glazer family, which owns the team, lured Schiano away from Rutgers less than two years ago.

Quite simply, the Glazers made a big mistake when they hired Schiano. There was no question Morris had to go and the Bucs needed to run a tighter ship. But the Bucs went overboard and brought in a steel barge that ended up sinking very quickly.

The Bucs went from one extreme to another instead of settling for something in the middle. They went with a coach who operated like he still was in college. Schiano came in and took control of everything, from the way practices were structured to the thermostat setting at One Buccaneer Place.
Yet, in Joe's eyes, it wasn't the my-way-or-the-highway approach that doomed Schiano. It was his inflexibility in games. The quote from Schiano that still resonates with Joe was when, agaisnt the 49ers, the Bucs scored two touchdowns in the first half running a hurry-up offense. It proved to be the only time the Bucs moved the ball.
But Schiano scrapped that. Why? He said because the team hadn't practiced that in the previous week. … But it was freaking working, so what?
Often in football, you have to be flexible, you must adjust on the fly. Schiano rarely was, and he showed little inclination to do so. That, more than thermostats, was his undoing.