"That Taste Stays In Your Mouth"
December 27th, 2013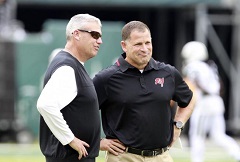 Greg Schiano has stayed away from reflecting on the 2013 season during his chats with local media this week.
When asked big-picture questions or to evaluate players, Schiano largely has said he'll get to that on Monday after the Saints-Bucs game. But Schiano did engage in a little reflection with the New Orleans media.
"We had some tough losses early in the year, yeah, it's a little bit of a weird year. You know, some of those games we almost invented ways to lose," Schiano said. "I think the biggest thing was our guys stuck together. There was no finger-pointing. Everybody. We have a great group of guys in that locker room, some real strong leadership. They showed the younger guys the way to go. Not near where we want to be. We've had a lot of injuries. We've had 15, I guess 16 guys now on [injured reserve]. We've just kind of tried to fight through all this stuff. We have one more opportunity in New Orleans on Sunday, and we're looking forward to it."
Schiano later did more reflecting and explained why Sunday's game may be a tiny bit more important than the others.
"It's been a very, very hard challenging tough year," Schiano said. "You know as a football coach, you know that last one, that taste stays in your mouth. So you'd like to have it be a good one because it's a long offseason with the bitter taste of defeat in your mouth."
Now none of this was anything really new from Schiano, but it was fresh to hear him look back, which he really hasn't done lately.
Schiano also was asked whether he thought it was fair that one game [against New Orleans] could affect his employment status.
The head coach said he's got 26 years of coaching experience and his focus is on gameday, which is the greatest day in a coach's world. "I don't really spend one ounce of time or concern on anything else," Schiano said.