Team Glazer Watching Schiano Revival Tour
December 8th, 2013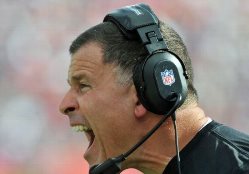 What's stirring inside the collective brains of Team Glazer? Joe sure would love to know.
The New Schiano Order has now revived itself from the depths of 0-8, MRSA, sleepy-leaky Josh Freeman, brutally painful losses, and repeated media beatings to emerge as winners of four of five games.
Greg Schiano is not a great NFL head coach yet, but Joe wouldn't want to bet against him winning Survivor one day. This turnaround has been historic.
So what does that mean? If Joe dives into those Glazer minds, Joe envisions a consensus that Schiano only has to win one more game — against a tough schedule — to return in 2014. The Bucs losing their final three games would at least make Team Glazer think long and hard about the direction of the franchise. But if the Bucs can take one from the Niners, Rams (on the road) or Saints, then that leaves the Bucs at 5-3 in the second half of the season.
Joe can't see Team Glazer sitting around drinking fancy vodka martinis saying, 'Schiano finished up 5-3 against a tough schedule and the guys played hard, so let's fire his ass.' That's not going to happen.
Again, Joe can't call Schiano a great coach. The guy's never had a winning season and won't this year. And he's made some mind-numbing, on-field decisions. But Joe also couldn't call label him a bust if he emerges with five wins out of the depths of hell.
Regardless, Joe's darn glad the Bucs are going to decide Schiano's fate on the field. That's the way it should be. There's enough talent on the field to win another game and compete down the stretch.