Stop With The Rex Ryan Nonsense!
December 23rd, 2013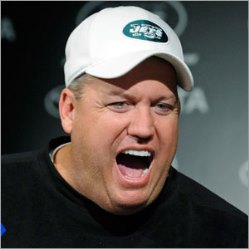 Sometimes Joe just wants to jump in an empty swimming pool the way some Bucs fans react after hearing a familiar name and all but demanding the Bucs get said name with no thinking whatsoever to the consequence.
This happened Sunday when Bucs fans learned Jets Captain Lou Albano told his team he expected to be fired. All of a sudden, Bucs fans began Twittering Joe for Team Glazer to hire Captain Lou Albano.
This just in: Greg Schiano is employed as the Bucs coach.
This just in: Captain Lou Albano is still employed by the Jets.
But that's not the half of that. Bucs fans are understandably outraged over their lack of offense. They are not in the Christmas spirit and want to leave something dark and smelly in Bucs offensive coordinator Mike Sullivan's stocking. That is not a piece of coal.
But what in the wide, wide world of sports makes Bucs fans think Captain Lou Albano will magically cure the Bucs' ills on offense? The guy has had a brutal offense in just about every year he has been with the Jets. Shoot, Mike Glennon has developed better than Geno Smith.
Aside from the offense, Captain Lou Albano runs a 34 defense. Why, oh why would you neuter your best player (Gerald McCoy) by installing a 34 defense? That is simply beyond crazy talk. You want to build around GMC, not cut off his cajones!
While Captain Lou Albano may be a decent coach — he did a helluva job this season — he is simply not a good fit for the Bucs unless you expect Bucs rock star general manager Mark Dominik to completely and totally gut the roster.
Let Captain Lou Albano take his foot fetish elsewhere.