Revis Wants Input On 2014 Changes
December 26th, 2013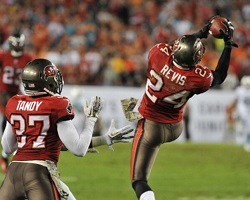 WDAE-AM 620 Bucs beat writer Tom Krasniqi shared an intriguing nugget from Darrelle Revis this afternoon.
Per his daily notebook, Krasniqi said the $1-million-per-game cornerback wants a hand in improving his new team.
Bucs CB Darrelle Revis says moves must be made after the season: "I do believe we need to change some things in the offseason as we move forward as players and coaches." Revis is hoping that he is asked for some input in regards to possible changes.
This summer, Ronde Barber was buzzing around Bucs training camp and told Joe he was very impressed by the "exit interviews" of Bucs players conducted by the New Schiano Order. And Barber explained that it extended not only to verbal communication but written questions and opportunities for input.
It was Barber's take that Greg Schiano took player input very seriously and other players felt the same way. What good that did, or what significant changes that prompted, is unknown.
But Schiano will listen, and Revis surely will open up. Much like Schiano, Revis is a detail guy. He's meticulous in many ways.
Joe's going to raise a frosty cold one tonight hoping Revis will improve the Bucs secondary in 2014, and not just because his knee will be 100 percent.