"Mistake" Helps Schiano's Bid For Third Year
December 20th, 2013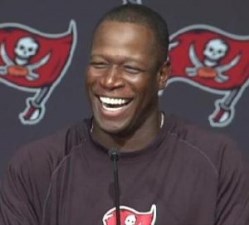 The ghost of Raheem Morris lingers at One Buc Palace.
When former Bucs coach Raheem Morris manned the pirate ship, it was one big chest-bump at One Buc Palace. With rap music blaring at practices (in 2009) and the head coach hanging with players in trendy south Tampa hot spots, it was more like One Buc Club than an NFL franchise.
And it showed on the field in 2011.
Likely embarrassed, Team Glazer hired Greg Schiano, in part, to lay down a New Schiano Order, weed out malcontents like DJ Toes on the Line, Rip Van Freeman and reality star-wannabe Dez Briscoe, among others, and build a new foundation.
Thus far, there have been highs and lows nearly two years after Schiano took the gig. But the ghost of Morris casts a pall on the doors of the suits at One Buc Palace. Because of that, both the Custodian of Canton, eye-RAH! Kaufman of the Tampa Tribune, and the one and only Chris "Mad Dog" Russo, agree that ghost may very well be a significant reason why Schiano, still searching for his first winning season in the NFL (Morris actually had a winning season his second year), could be retained for the 2014 campaign.
That's what Kaufman said to Russo in his weekly appearance, "Kaufman's Korner," on the show that bears the hosts' name, "Mad Dog Unleashed," heard exclusively on SiriusXM Radio.
eye-RAH! Kaufman: They are trying to get through a miserable football season, Chris. Only two weeks left. Schiano's future is up in the balance. Who knows what the Glazers are thinking? Chris, I will tell you one thing: I don't think they are in a hurry to admit to making another coaching mistake. I think that works in Schiano's favor.

Chris "Mad Dog" Russo: I think he is going to get another year. Now they are going to lose their last two games, I think. So they are going to be 4-12. I don't think these last two games are going to look good for Schiano as far as the record is concerned. But I think with the quarterback [Mike Glennon] and that turned out to be a pretty good move, and the fact they were relatively competitive, and as you said, after the last coaching moves with the last guy you had, what was his name again, I forget?

Kaufman: Raheem Morris.

Russo: Oh, yeah (laughs), Raheem Morris (laughs). How many coaching moves can you make? I think Schiano will get a third year. Now I wouldn't bet the ranch he is 4-12 next year. But I do think he will get a third year.
Joe does sense Kaufman and Russo are on to something. Joe is pretty sure Team Glazer does not want to be the Oakland Raiders of the east coast, changing coaches every two years. That is hardly any way to develop a foundation, develop consistency, all necessary ingredients for building a lasting contender.
The mystery won't last long. We should know within two weeks if Team Glazer is going to make a move or not. If Joe had to lay a $5 bill, he'd bet Schiano returns.
That's how cautious Joe is. Nothing is etched in stone. One can only read the current tea leaves, which are floating in Schiano's direction.