Mason Foster Becoming Marked Man
December 13th, 2013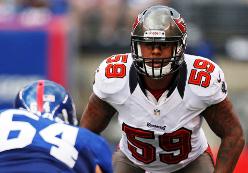 Mason Foster is now in his third season at middle linebacker and Joe's of the mind this has been his best season to date.
Foster was selected in the 2011 draft and, quite simply, Joe thought he was overwhelmed as he was an outside linebacker in college. That season, which saw then-coach Raheem Morris jettisoned, the Bucs arguably had the worst linebacking unit in the NFL.
Last year, probably because of coaching from former front-7 coach Bryan Cox, Foster looked to be making an early push for a Pro Bowl berth but faded down the stretch — as the Bucs fades themselves on the cusp of a playoff berth.
This season Foster has not faded. He has become a force with the Bucs, though not to the level of stud Lavonte David (who the hell is?). Foster has become such a good player that Bucs defensive coordinator Bill Sheridan thinks opposing offenses game plan against Foster, who Sheridan refers to as "Mase."
"There's no doubt, Mason plays the MIKE linebacker and there isn't a down in football, especially in the running game, where they're not going to have a guy assigned to block the MIKE," Sheridan said. "Lavonte plays behind Gerald and so there's no doubt he is protected a little bit more in the run game and more likely to just be able to run and scrape and make tackles, where 'Mase' lines up to what we call the bubble – the uncovered guard – so he's going to get blocked every single down. Not taking anything away from Lavonte, because he's had an outstanding year and plays well week in and week out, but there's a lot of plays he makes where he's not being blocked, he's running down the ball carrier. Where Mase doesn't get that opportunity as much because they're assigning either a full back, or a guard, or a gap-scheme blocker to come up and block him so, yeah, there's no doubt, Mase is in a more of a block take on position than Lavonte is."
That is pretty high praise to hear that Foster often makes plays, but has to go around and through people to make many of those plays.
Like many Bucs, though he has a warm, outgoing personality, Foster, a huge Ric Flair fan, doesn't like to talk about himself. Rather, he prefers to talk about the linebackers and the defense as a whole. Getting Foster to talk about himself is a chore.
This week is important to Foster, who grew up on San Francisco and has family members that are diehard 49ers fans. In a word, one could say Foster is, well, excited.
"It is exciting," Foster said. "But every game is exciting. Any chance you get to play a great team like [the 49ers] and a great quarterback, and a lot of great players, it is exciting.

"My grandma and my grandpa are big Niners fans. So I know they are excited.

"I will take any win. Everybody is going to be watching to see how the Bucs to see how they are going to do against an elite team. I'm excited. It's going to be a big-time game."
Now in Joe's eyes, this game is a very, very bad match-up for the Bucs. Throw in the fact the 49ers are still fighting for a playoff berth, it adds that much pressure on the Bucs to stop them.
But here's a nugget for Bucs fans of the glass-is-half-full crowd: The Bucs took the 49ers' bitter NFC West rivals, the Seahawks, to overtime in their own crib. Last week the 49ers nipped the Seahawks in a slugfest at Candlestick Park.