Lavonte David Making Bucs, NFL History
December 8th, 2013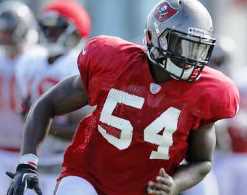 Joe never dreamed he would see a Bucs linebacker as good as Derrick Brooks. The former outside linebacker someday will wear a yellow jacket and have his bust in the Pro Football Hall of Fame; he could be elected as soon as February.
Now Joe loves Lavonte David, also an outside linebacker who, like Brooks, is insanely fast and racks up tackles like Joe does dead soldiers on a sultry college football Saturday afternoon.
But today, David accomplished something as a Bucs linebacker that hasn't happened in 14 years, when Brooks was an elite player.
In the third quarter, David intercepted his second pass of the game, returning it 32 yards. David is the first Buccaneers linebacker to record multiple interceptions in the same game since Brooks, who had two against Chicago in 1999. David also became the first Buccaneer to have multiple picks since gun-toting, cabbie-punching, granny-hassling cornerback Aqib Talib in 2010, when he had a pair against Arizona.
Also, David is the first player since Brian Urlacher in 2007 to have five sacks and five interceptions in the same season. David has six sacks to along with his fie picks.
Pretty heady company David is hanging with these days.
As always, David was humble about the milestones he is setting.
"That's a big deal, isn't it? It's just an accomplishment; I really don't pay attention to the statistical things, but it's just all a matter of just playing hard, David said. "I love playing this game. I try my best week in and week out and great things happen. Obviously, that's a great accomplishment. This game of football has been around a long time. To be the seventh player on that list is amazing. Through God all things are possible. If it wasn't for Him, I wouldn't be in this position. Also if it wasn't for my teammates doing what they're supposed to do – everybody just flying to the football, getting hands on footballs, creating lanes for sack and things like that – I wouldn't be in this position. I never single myself out; it's a team football game. I wouldn't be doing this if it wasn't for my team."