Is Johnthan Banks On Cusp Of Elite?
December 7th, 2013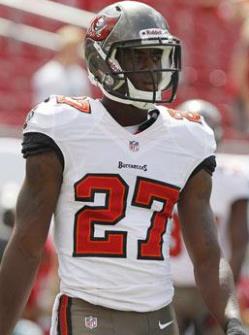 Joe was as shocked as just about anyone two weeks ago, when Bucs stud cornerback Darrelle Revis left late in the first half in Detroit and rookie Johnthan Banks replaced Revis and had to go toe-to-toe with the greatest wide receiver of our generation, Calvin Johnson, and Banks won the battle.
It may have been the turning point of his young NFL career. A rookie showing he could hang with the likes of Johnson and the confidence that builds, Joe can't describe how good that is.
Well, the chieftain of PewterReport.com, Scott Reynolds, decided to do research, and has found that not only is Banks arguably the best rookie corner in the NFL this season. He is having one of the best rookie seasons for any Bucs rookie cornerback in franchise history.
It's interesting to note that Banks has had a better rookie season statistically than the three cornerbacks on Tampa Bay's Super Bowl team – Barber, Kelly and Smith. With four games remaining, the Mississippi State product has the chance to surpass Talib and his teammate, Johnson, and become one of the best rookie cornerbacks in team history.

"I try not to let stats get in the way," Banks said. "I just try to keep getting better. I want to be in this league a long time. I love playing football. I think I've had a pretty decent rookie season and keep getting better and doing what my coaches ask me to do. I've bought into this system and it's worked out pretty well for me. Anything I can do to make myself better as a player I'll do."
Not just that, but for example, Banks is having a far better year than gun-toting, granny-hassling, coach-cussing Aqib Talib had (with far, far, far less drama, legal hassles and none of the speed-bagging of cabbies, as well). The only rookie Bucs corner with better numbers than Banks, per Reynolds, was Donnie Abraham, who had 60 tackles, 12 breakups and five picks in 1996.
Banks is why you will not see the Bucs draft a defensive back in the first two days of the draft.