"If He Wins Sunday, He's In"
December 15th, 2013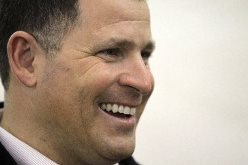 The fate of Bucs commander Greg Schiano is viewed as up in the air for some. After posting a losing season in 2012, and starting this season 0-8, Joe has never before experienced this kind of local freakout over a coach.
Billboards shot up all over the Tampa Bay area calling for Schiano's job. Phone lines to local sports radio shows were fried by fans demanding Schiano's head on a silver platter.
It was ugly.
Despite that, Schiano seems to have turned the Bucs around. They have won four of their last five games and lead the league in takeaways. For a while there, quarterback Mike Glennon appeared to be the answer, though he has fallen off.
Some, like one of the Joe's here at JoeBucsFan.com, believe Schiano is toast if he cannot secure another win in the final three games. It seems the one and only Chris "Mad Dog" Russo has the same philosophy.
Schiano's immediate future was discussed when the Custodian of Canton, Tampa Tribune NFL writer eye-RAH! Kaufman, stopped in for his weekly chat, "Kaufman's Korner," on the show that bears the host's name, "Mad Dog Unleashed," heard exclusively on SiriusXM Radio.
Chris "Mad Dog" Russo: I think Tampa needs a good win. They need one more win to finish 5-11 off going 0-8. That would mean a good second half with five wins. He cannot lose three games in a row. They have to go out there — that Saints game is going to be a significant game for the Saints. St. Louis is going to be with a long losing streak. I think Schiano — you don't want to end the year with three bad ones. If he gets one win in the next three and is relatively competitive, they are going to bring him back, would you agree?

eye-RAH! Kaufman: I tend to agree with that. And Chris, should he win Sunday against a quality team, I think you can get by with losing the last two games. If he wins Sunday, he's in, Chris. That would be four straight home wins and five out of six overall. I believe if he beats the Niners, Schiano will be back in Tampa.
Yeah, both Joe's would agree with that. If somehow Schiano uses a form of black magic to pull off a win against the defending NFC champs, yes, that should surely secure his return.
The dissenting Joe who doesn't believe Schiano is in immediate danger, short of getting blown out of the water the next three games, believes Team Glazer offered Schiano a mulligan for the lost season thanks in no small part to the Rip Van Freeman nonsense and the MRSA plague.