Holiday & Traffic Notes
December 23rd, 2013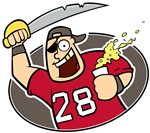 Christmas is in the air, but Joe wants to remind readers that Joe doesn't avail himself of holiday cheer that interferes with all things Bucs on these here pages.
It's going to be darn busy here over the next few days.
Today is a typical Monday and Christmas Eve — aka tomorrow — is a big day at One Buc Palace, with Greg Schiano, Mike Sullivan and Mike Glennon standing before the media. Schiano restructured the Buccaneers schedule to give the team Christmas off. Tuesday's regularly scheduled rest day is now a work day.
Also, Joe is planning something special for Christmas here that should be quite popular. 
Lastly, Joe wants to thank readers for their continued support through these tough days of Bucs fandom. Joe's traffic on these pages continues to amaze. And Joe's pleased to say, without any doubt, this is the most popular news/commentary outlet for Bucs fans. Thanks again to the folks who jumped from traditional news coverage to Joe's brand of delivery.
And one final note. Joe hopes readers are somewhat pleased by the navigation speed increase in JoeBucsFan.com that took effect about 10 days ago. Most readers are experiencing no (or very few) video or audio ads now. More speed is coming before the end of December. And great things are in store for Joe's mobile users. Joe will have more on that soon.