Grading The Schiano "Mandate"
December 5th, 2013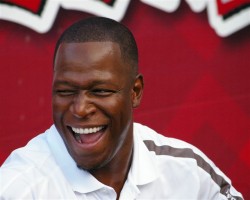 The leader of the New Schiano Order was ordered to pluck the weeds and revolutionize Bucs players' behavior when he was handed the keys to the franchise last year.
Speaking in a candid interview with Steve Duemig on WDAE-AM 620 Tuesday, Schiano used strong language to explain that his cleanup job was not optional.
Duemig asked Schiano whether his now famous "laughingstock" comment to Bucs suiteholders in October, referring to the state of the Bucs' discipline when Schiano arrived, is still viable.
"We were talking about some of the issues that when I came in as the head coach of the Bucs and, you know, not all of it is on-the-field stuff. A lot of it was stuff that quite frankly was known throughout the league and was, you know, not real good and had to be cleaned up. And that was one of the mandates when I got hired: these are things that had to be fixed and brought back to normalcy. And I set out to do that."
Schiano went on to say his use of the "laughingstock" was insensitive but "I feel like we've done a good job of getting things back to the way they should be off the field."
Given that Schiano's Bucs life is the balance with four games to play and a 3-9 record, Joe thinks it might be important to note that the Bucs have behaved extremely well off the field in 2013, surely cleaning up their reputation. That's got to be a factor for Team Glazer, considering it was a "mandate" to Schiano.
No Bucs have had any brushes with the law during the season. Offseason funny business by Eric Wright and Cody Grimm likely cost them their jobs, and DaQuan Bowers' gun charge turned out to be an innocent and harmless mistake.
Joe's got to give Schiano an "A" for executing his mandate. But his other mandate was to win games and compete in the NFC South. The head coach has a lot of folks to win over in the next four weeks.