GMC Making Bucs History
December 17th, 2013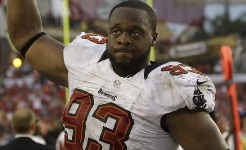 It blows Joe away that there are actually people out there who still hate Bucs stud defensive tackle Gerald McCoy. These are simply little people, who clearly don't watch games and must have agendas or unresolved childhood issues because they don't like nice people.
GMC is as good of a guy as there is. Yet his haters loathe that about him. They are jealous of his success.
How much success? Well, GMC has been doing things this year that haven't been seen at the Stadium on Dale Mabry Highway in 13 years.
This season, Gerald McCoy has eight sacks. That's the most sacks by a Bucs defensive tackle since Hall of Famer Warren Sapp collected 16.5 in 2000. Now this stunned Joe, that Sapp hadn't had double-digit sacks since. That is pretty incredible.
Imagine how much better GMC would be if the Bucs had a consistent pass rusher from the edge. Or more importantly, had a guy from the edge who actually rushed the quarterback on a consistent basis, not being pulled out of position by some weird stunt to cover a wide receiver.