Gerald McCoy Continues To Dominate
December 11th, 2013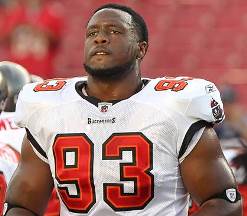 Lost in the seven-sack, four-interception game Sunday was the play of Bucs stud defensive tackle Gerald McCoy.
Oh, he had a sack, too, no question. But it was the things he was doing that don't always show up in the box score is a big reason why Bills quarterback EJ Manuel had such a horrible day.
That's the analysis by John Breitenbach of ProFootballFocus.com, who documented just how much of a beast GMC was.
Gerald McCoy was an absolute monster against the Bills and this wasn't even his best game of the season. As a pass rusher McCoy had a sack, a hit, five hurries and a batted pass in 48 rushes. The numbers don't tell the whole story though as McCoy had another pair of pressures negated by penalty. That essentially means he was influencing the play as a pass rusher every five snaps. Kraig Urbik especially will be glad to see the back of McCoy who gave him fits throughout the game. His hit was one of his highlights as he just blew past the Bills OG to knock Manuel down. Although he wasn't as disruptive in the run game, McCoy still made his presence felt, recording three defensive stops. His absurd strength was on display on one play with 12.33 to play in the first when he drove Urbik three yards into the backfield, shed him inside and made the tackle after only a one yard gain. Overall McCoy graded negative just twice and he could have graded even higher if the game had been competitive for longer. McCoy is now far and away our best graded interior defensive lineman, grading in the green in all but two games so far this season.
Far and away the best graded interior defensive lineman! Joe knows there are still GMC detractors out there and at this point, they should crawl in a hole and hide in shame it is so ridiculous to mock GMC. For those people, it almost tells Joe they don't watch games and have some insane agenda.
Joe found it interesting last night Bucs commander Greg Schiano confessed he doesn't feel he has the talent on the defensive front to not run stunts. The clear exception is, GMC.