Fennelly: Time To Clean House
December 29th, 2013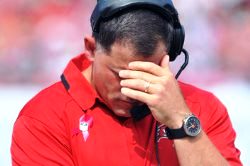 Well, this is a Sunday morning eye-opener. Tampa Tribune columnist Martin Fennelly is a lot of things. A gifted writer. A hilarious wordsmith. A scribe who finds and flushes out the absurdities in sports, specifically locally.
A headhunter Fennelly is not and never has been. So it was jarring for Joe to read Fennelly's latest piece this morning calling for a regime change at One Buc Palace. Fennelly is calling for a MRSA-like delousing of the building not just including Bucs commander Greg Schiano, but also Bucs rock star general manager Mark Dominik.
In 2013, expectations were high — high. Remember that.

The ax should fall.

I don't want to hear that there are no other coaches out there. There always are. It's just a matter of finding the right one.
Well, Joe made a case both for and against Schiano on Christmas Day. One reason to keep Schiano is that the franchise will never move forward if you are running coaching staffs in and out every two years and no coach short of maybe Vince Lombardi could win when your starting quarterback goes mental at the beginning of the season and tries to roll a live hand grenade through One Buc Palace in order for him to escape.
Last night Joe was talking with a former Bucs player who played for both Father Dungy and Chucky. He told Joe he wishes Dominik would have been more forceful in demanding Michael Bennett stay on the roster and pull the trigger on Johnny Football this May, whether Mike Glennon is Schiano's guy or not.
The problem with drafting Johnny Football is, if the Bucs do not win with Schiano next year, then he is very likely purged and then the old dog-chasing-its-tail routine starts all over again with a promising young quarterback having to take two steps back to learn his second offense in as many years.
Joe is going to guess the outcome of today's game against the Saints, no matter the margin of the loss game, will not determine Schiano's fate. Team Glazer isn't that rash and reactionary.