Doubt BOB Gets Call From Team Glazer
December 30th, 2013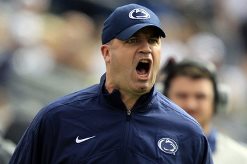 Over the past few days, rumors linked former Bucs commander Greg Schiano to a potential opening at Penn State; rumors Schiano vehemently denied. The main problem was, there wasn't an opening at Penn State. There, head coach, Bill O'Brien, (often referred to on the Interwebs as "BOB,") was still entrenched but was being wooed by the Houston Texans.
Joe's pretty sure, despite his solid resume, Team Glazer won't be calling BOB.
BOB has a history of working magic with quarterbacks. He was Tom Brady's quarterback coach/offensive coordinator during some of Brady's best seasons. When BOB went to Penn State, he worked a miracle into turning walk-on quarterback Matt McGloin into an NFL quarterback. With Joe Paterno, McGloin was at times painful to watch. If anyone told Joe that McGloin would ever start an NFL game (he did this year with the Raiders), Joe would have looked around for the guys in the long white sleeves to be hauling the person away.
Then last year BOB got a hold of Christian Hackenberg, one of the better quarterback recruits in the nation, and it was clear BOB was working his talents with Hackenberg, too, as the freshman didn't look anything like a freshman, especially in a come-from-behind win over Michigan.
BOB knows how to build quarterbacks.
But Team Glazer has just been burned by a college guy, has just been burned by a Bill Belicheat disciple. No matter how talented BOB may be, Joe can't see Team Glazer talking to him.
Besides, what spooks Joe about BOB is every one of the Belicheat clones who have taken over NFL teams have been miserable beyond words.