Bucs Are In 49ers' Heads
December 14th, 2013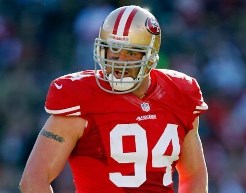 On paper, Sunday looks like a dreadful match-up. As Greg Schiano quipped earlier this week, there are Pro Bowlers and first round draft picks all over the roster of the 49ers.
San Francisco has a brute, physical defense with one of the greatest linebacker units Joe has ever seen. The front line and the secondary of the 49ers are nearly that good.
Offensively, Frank Gore is a modern-day version of Earl Campbell. The dude just loves to run up the middle of defenses and run people over. Their offensive line is loaded. The Bucs are not the greatest team against the run, and on offense, when they don't go into hibernation in the second half, struggle against physical defenses.
No, tomorrow's game is not looking good for the Bucs. At all.
It seems Justin Smith doesn't exactly agree with all of this. The bruising 49ers defensive tackle believes this is a trap game for the 49ers, coming off a nasty one-point win over their arch rivals, the Seahawks. Smith advised his teammates this is not the time to look ahead, per Ron Kroichick of the San Francisco Chronicle.
Put another way: This has all the makings of a trap game. Fullback Bruce Miller said Smith's words resonated, as they usually do.

"It's not often, but everyone listens when he does speak," Miller said. "To us, the most important thing is making it to the postseason, which makes this game even more important than last week's. I think everyone understands the importance of going down there and keeping focused.

"We need to win this game if we want to reach our goals."
Joe is not trying to be a glass is half-empty kinda guy, but does anyone really believe Mike Glennon can turn around his recent struggles against physical teams against perhaps the most bone-rattling defense in the NFL?
Yes, the cliche, "Stranger things have happened," certainly applies. Joe just can't do the math where the Bucs can pull off a win, short of a flurry of 49ers turnovers, and even then, as we all witnessed last week, when the Bucs do get turnovers, they couldn't capitalize consistently on the bungling Bills.