Another Poke At Mike Sullivan?
December 10th, 2013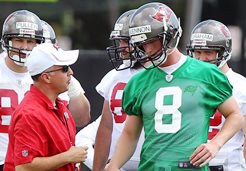 A couple of weeks ago, Joe noted the wacky chatter of Bill Sheridan relaying how Bucs coaches talk about finding ways to get Da'Quan Bowers more snaps because he's so talented.
That was almost silly. 'Hey, Coach, you want Bowers in, then just put him in!!'
Greg Schiano served up a similar type of comment yesterday about the Bucs' passing game, and it set off Joe's radar up again for the job security of offensive coordinator Mike Sullivan.
Joe wrote last week about how Sullivan's Bucs future is murky. Aside from the heinous offensive production this season, Schiano has made several comments about how the Bucs need to change their offensive balance.
He busted out another last night on WDAE-AM 620. Schiano was on board with a caller who told him the Bucs need a short passing game.
"I understand where you're coming from and I couldn't agree with you more. We need to do more of the short passing game, what we call the three-step passing game," Schiano said. "You know, they're generally tied to six-to-eight yard routes. You get the ball out of the quarterback's hand quickly. You let the receiver try to have some run-after-catch. And to me, it's not a lot different than the run. And we've been working on that and trying to get better at that."
Joe isn't nitpicking here. There's a trend in place, one where Schiano says the Bucs need to change playcalling — not just execute better. It's a telling difference.
You want more slants, quick shots in the flats to Erik Lorig or Bobby Rainey, or wide receiver screens for four yards, then CALL it. It's that simple. The Bucs didn't dial back the playbook for Mike Glennon, and it's Year 2 of the regime.