Yesterday, Today And Tomorrow
November 4th, 2013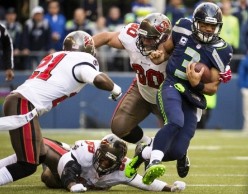 Joe finished watching Bucs commander Greg Schiano's postgame presser video on Buccaneers.com in the small hours of this morning and Joe has never seen Schiano so crushed. Joe has seen Schiano miffed, upset, happy, fired up and even passive. Joe had never seen the guy so deflated. It was almost as if he was at a loss for words.
Schiano looked every bit the man at the wake of a family member. Perhaps Schiano himself knows his days with the Bucs are numbered after this team tanked a three-touchdown lead and folded like a tent in the second half, both offensively and defensively?
The previous week, for reasons not quite clear, Schiano had the look and demeanor of a man given fresh life. If Joe didn't know better, he'd guess that Team Glazer had told Schiano, given the leaky Josh Freeman fiasco that tore the Bucs apart and, as Bill Cowher noted yesterday, how Freeman single-handedly destroyed the Bucs, perhaps not too worry about the past. Get the team's ship righted in the second half of the season and a return for 2014 would be very much on the table.
Sunday, he may have seen that new life flash before his very eyes. Now, with the Bucs 0-8, and losing 13 of their last 14 games, and a team that cannot even win a game after gaining a 21-point lead, well, that may have been the proverbial breaking of the camel's back.
Joe will still guess that Schiano stays at least until December. Again, what exactly would be the point of an interim coach? Destroy a strong draft position for a couple of meaningless wins that people won't remember two years from now?
Has Schiano and his staff done a good job of coaching? There's no way to say that with a straight face. Schiano has even said that on several occasions. Now, it's almost past the point of no return (for 2014). Joe honestly feels sorry for Schiano, a good guy who was caught in a mess (Freeman) and never recovered from it.
The NFL is about wins. Schiano and his staff have proven they can't. There's really nothing more to say on the subject.
What run defense?
Even by adding more talent, the Bucs have regressed terribly from last year. How else to explain how the NFL's best run defense has gone from No. 1 to No. 13? Maybe the four defensive linemen Bucs rock star general manager Mark Dominik brought in Schiano should have kept, no? After Michael Bennett got a key sack of Mike Glennon yesterday, don't ya' think he could have helped the Bucs? Yeah.
Was Ronde Barber that key of a figure in the rush defense? Joe isn't sure. But Joe's going to suggest that given how the Bucs, week after week, are unable to make key adjustments in the second half, have not been able to figure out — or are unwilling to change — how offensive coaches have attacked the Bucs on the ground.
Don't be naive and think that NFL coaches during the offseason didn't study the league's top rush defense to find cracks or weaknesses in the schemes.
Bright spot?
Joe caught flack for not writing enough about the Bucs' positives from yesterday. Really? The friggin' team lost, choked away a three-touchdown lead and is 0-8 on their way to 1-13 and you want loads of positives??? These people are kindred spirits to the types who are quick to point out that, while Adolph Hitler may had have his flaws, he did have the trains running on time in the Fatherland.
To humor these Little League mothers, Mark Barron may have turned the corner as the dominant safety the Bucs thought he could be when he was drafted so high (cue the Dominik haters in three… two… one!). Barron led the team in tackles with 11 (along with Lavonte David) and leads the team now in picks with two (a disgraceful stat through eight games given the talent in the Bucs secondary).
Barron has always been strong against the run. If he continues to be good against the pass like this, he may be one of the better safeties in the NFL. Consistency is the key.
Could have had Golden Tate
That 71-yard punt return by Golden Tate that set up a Seahawks touchdown to narrow the score to 24-17? Joe couldn't help but think of how Arrelious Benn (hey, the Bucs got a first down off the ugly Benn'd Around yesterday!) was the wide receiver drafted before Tate in the second round of 2010. Eh, it's easy to Monday morning quarterback a draft over three years later, but this is ammo for the Dominik haters.
Offensive line's best of 2013
Joe just giggled every time he heard/read a Bucs fan holler about how Schiano used not-fully-recovered Darrelle Revis on defense. It was the most manufactured non-story Joe has seen in some time.
Revis not playing in a man-press was not the reason the Bucs were losing. Rather, it was the under-performing offensive line, painfully so. When a line can't block, you can't run and your quarterback can't set up to throw. No blocking and your offense can't do squat and that is exactly what was happening with the Bucs due to injuries and just flat out subpar play.
Yesterday, that changed. The Bucs blocked the s(p)it out of the Seahawks front seven, enough to allow rookie running back Mike James to have his best game since high school.
So, why did it take the Bucs this long (long enough to seal the fate of the coaching staff) to put Jamon Meredith at left guard? If a team has to open a season with eight straight losses to figure this out, Joe suggests the coaching staff is woefully under-performing as well, more so than the offensive line has.
Sackless Bucs
The defensive line continued to embarrass themselves and the team with yet another sackless day. While Gerald McCoy balled out, right now he is basically a one-man gang. With the possible exception of Joe Greene and Reggie White, no man can beat double- and triple-teams play after play after play like GMC faces.
Joe will remind you that Dominik had four defensive linemen on the practice fields of One Buc Palace over the past two years that the coaching staff deemed not to be Buccaneer Men. Entering this past weekend's games, those guys had as many sacks combined this season as the Bucs' front four.
Can't win close games
Schiano is winless with the Bucs in games decided by three points or less in his 24 games as the Bucs commander. This just in: he is winless in 13 of the last 14 games no matter the difference in the score.
Yes, it would help if he can win a few close games, but Joe's guessing Bucs fans would be happy with a seven-point win for a change, hell, any win, not just a close win.
What next? Joe knows there will be more screams for Schiano's head. Joe really doesn't expect it to happen today, when Schiano will talk about fixing whatever is wrong with the Bucs, but that's basically swimming upstream. What's the point at this stage? Empty rhetoric.
Around the NFL
Dolphins: Well, the Dolphins found a way to win over playoff-bound Cincinnati. There's a team that has a major, major distraction, a Josh Freeman-like distraction, and still found a way to win against a solid, solid team. Imagine?
Chiefs: The undefeated Chiefs outlasted hapless Buffalo despite not scoring an offensive touchdown. Talk about finding a way to win. Think the Bucs could pull that off? Nah, neither can Joe.
Stinking Panthers: Cam Newton and company throttled the Dixie Chicks yesterday. Look how much that team has improved just in the past month or so, with Mike Shula as their offensive coordinator. Mike Shula! Yet the Bucs are circling the drain.
Cowboys: Joe heard a great line from Dan Marino on the much underrated "That Other Pregame Show" yesterday morning. He said if Dez Bryant would have freaked on him the way he did on Tony Romo two weeks ago, he would have told Bryant in no uncertain terms, "If you don't shut up and sit down I will never throw the ball your way again." Oh, think Josh Freeman could have pulled the Vikings within a score of the Cowboys like Christian Ponder did with the Cowboys' pass rush? Nah, Joe doesn't either.
Jets: Man, what a manic team the Jets are. One week good, next week bad. Now they beat Drew Brees and the Saints. Much maligned Dee Milliner even made a play. How about that?
Titans: Chris Johnson is reborn and torches his old coach now with the Lambs. Can you imagine the torture to sit through this game sober? Whew.
Redskins: RGIII rallies Washington from behind by nearly tossing 300 yards, all one on leg. Joe cannot imagine this guy will be 30 and still be quarterbacking in the NFL. Dude is simply getting beat to a pulp.
Eagles: Nick Foles, seven touchdowns, 'nuff said. Joe read where Joe Kapp once had seven touchdowns. This is difficult to believe.
Browns: Now that Jason Campbell is the Browns starting quarterback – Jason Campbell?! – the team is dangerous. The Browns had a good defense, but were rudderless on offense. Difficult to believe Campbell is the answer but he did beat the Super Bowl champions.
Patriots: Just thrashed the sinking Steelers. Yeah, Tom Brady has a poor completion percentage. And Kate Upton has a wart, too!
Colts: How cool was that game last night? Just when the Texans looked to have the game in the bag, here comes Andrew Luck and a bunch of receivers you never heard of.  Luck is fun to watch, even with that ugly neckbeard.
Non-NFL thoughts
1) How good is Florida State? The only points the Canes scored were off Jameis Winston's picks. Otherwise, it would have been a shutout of the No. 7 team in the nation. That is freaking impressive.
2) Joe thought Jimbo Fisher was going to go all Woody Hayes on his offensive lineman, Bobby Hart, who had a major dumbarse penalty. Fisher was about to go wilding on the guy on national TV. Joe doesn't blame him for being incensed, but easy man, easy.
3) Yes, the Canes are back, Joe believes. College football is so right when Miami and Florida State are relevant. The way first-year offensive coordinator James Coley can recruit, look out the next couple of years with that guy running loose in South Florida.
4) If Joe had to pick the Heisman Trophy now, it would be Johnny Football over Jameis Winston. Johnny Football is a marked man and yet his numbers are better than last year's. As the Noles proved Saturday night, they don't need Winston to pound an opponent; they have good running backs and a big offensive line. Johnny Football is virtually a one-man offense. Defenses know this, if you stop Johnny Football, then you stop A&M; and still they cannot stop Johnny Football.
5) Joe knows he will be asked about Marcus Mariota. Joe confesses he hasn't watched him a lot because Oregon games are either hidden on the PAC 12 Network or played in the middle of the night. What Joe has seen of the guy, is he is good, obviously, but like Winston, teams cannot gameplan against him or other guys (DeAnthony Thomas, for example) will roast you. Again, Mariota and Winston have complimentary running backs surrounding them. Johnny Football does not.
6) My God, the Big Ten is brutal this year. Sorry, Ohio State has played no one and with the conference so down, they ought to be beating teams by 50 points.
7) Joe never in his life thought he would type the following sentence: Penn State's defense is horrible. If Big Ten schools are racking up nearly 300 yards of offense against you each and every week, and you struggle against the likes of tripe like Illinois, you have problems. Somewhere, Scrap Bradley is vomiting.
8) Joe talked with someone who has deep knowledge of the draft this past week and heard some interesting things. For example, Joe asked about Jimmy Garoppolo of Eastern Illinois who has an insane 3,544 yards and 39 touchdowns through nine games. That's nearly 400 yards a game with four touchdowns. Joe was told, "Oh, he's on everybody's radar" as far as NFL teams go.
9) Joe thinks the talk of running Will Muschamp from Florida is insane. The team has been decimated by injuries yet Florida still has a decent defense. Now does he need to quit the Father Dungy shtick of trying to win games by defense only and use an offense that is somewhat akin to 20th Century football? He sure does. But it's not like he's starting fights with fraternity dudes on campus or sweeping murders (allegedly) under the rug.
Joe truly thinks Florida is going to give Florida State the game of their lives and may very well upset Florida State. Just wait.
10) Joe hopes Red Sox fans got alcohol poisoning over the weekend.